Social Media and Content Should Work Together
Written by Nick Stamoulis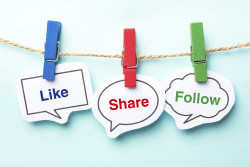 There are many components that make up a robust online marketing campaign today. It's not enough to just have a website. In order for that website to be found you need to participate in numerous online marketing tactics that need to be integrated together into one strategy. Two important parts of an online marketing strategy are content marketing and social media marketing.
In order to have a cohesive and comprehensive digital marketing strategy for your business, you need to consider how the two work together to help you connect with your ideal audience and increase your results.
What is Content Marketing, Exactly?
Content marketing involves creating a variety of content (blog posts, articles, guest blog posts, videos, whitepapers, e-books, guides, webinars, etc.) that will attract target audience members. It's a form of inbound marketing. Instead of forcing your service or product upon a potential client or customer in a pushy, traditional format (like advertising), content is created for people to find when they want to and on their terms.
Creating quality content that is informative and provides target audience members with beneficial information or helps them solve a problem will help keep your company or brand top of mind while potential clients or customers are in research mode. In addition, you will be viewed as a trusted source and a thought leader in the industry, which can improve the chances that target audience members will choose you, when the time comes.
What is Social Media, Exactly?
Social media serves a similar purpose. In order for a person to receive messages from a brand in social media, they need to opt-in and choose to Follow or to Like the brand. A social media "relationship" between a consumer and a brand can be beneficial for both parties. Consumers can share their comments, questions, and concerns and businesses can treat their social community like a focus group and gain valuable insights that can help guide business and product decisions.
While content marketing and social media are valuable marketing tactics on their own, they really thrive while working together. Keeping the content marketing and social media teams separate is a mistake. Without social media integration, how will your content be found? Without content marketing integration, what will you be sharing in social media?
Develop Content Marketing Collateral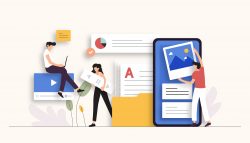 It takes a lot of time and effort to develop good content marketing collateral. If you're going to be spending all of that time and effort, don't you want that content to be seen? What's the point of creating a great whitepaper and then hiding it away on an interior page of your website? Or publishing a useful blog post and hoping that people venture to your blog and find it? Yes, part of the reason why content marketing is so important is for SEO, because each piece of quality content can rank in the search engines for specific (sometimes long tail) keywords, but that takes time.
Gaining organic search traffic from your content won't happen overnight, which is why social media is such a useful tool. It's essentially a way to get eyes on your content almost immediately, which is extremely beneficial if the content is timely. Social media is meant for sharing, so share away! Any content that you create should be shared with your followers in social media. After all, they have already expressed that they are interested in your business. And keep in mind that it's not just your followers who will be seeing your social media posts. While people are researching which companies to work with, they're checking out their social profiles. They might not necessarily be following the page, but because a business social media page should be public, they can still access it and see and click on any content that is shared.
Having a Conversation With Your Followers
Social media is meant to be social and is about having a conversation with your followers, but without the content marketing piece what will facilitate that conversation? This is especially true in the B2B sector. It might not make sense to be running contests or posting funny images on your social pages. So what are you going to share? That's right, your valuable, insightful pieces of content! If you aren't using social media to share anything with any real substance, you risk getting lost in the shuffle or worse, your brand reputation could suffer because of it.
Social media has become such a huge part of our daily lives. An active business social media presence has come to be expected. A prospect may question the validity of a company that doesn't properly use social media channels to communicate with target audience members and share useful information that can assist in their decision making process.
To generate website visitors, a company needs to be investing in both content marketing and social media. Creating and publishing quality content helps to generate organic search traffic long term, but it's the social media sharing that generates short term traffic in addition to giving that content a slight SEO boost in the form of social signals.
Categorized in: Social Media
LIKE AND SHARE THIS ARTICLE:
READ OTHER DIGITAL MARKETING RELATED ARTICLES FROM THE BRICK MARKETING BLOG: