Should You Outsource Your Social Media?
Written by Nick Stamoulis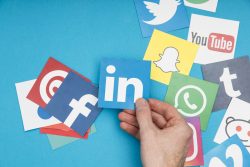 Social media has an important place in the world of digital marketing. Each of the platforms, such as Twitter, LinkedIn, and Facebook, gives your business chance to draw in a larger audience. This can lead to an increase in branding for your company, and over time this could help increase traffic to your company website. It may even help you get more business over the long term.
However, in order for it to truly work, it needs to be done on a consistent basis. Unfortunately, not every business has the resources to do their program justice. In this case, it can be incredibly helpful to outsource your social media needs. Here's more information:
Pros: Should You Outsource Your Social Media?
Are you wondering if you would benefit from hiring an outside firm to take care of your social media? There is a lot that can be gained from doing so. Here's a look at some of the main reasons why you might want to outsource.
Develop an Effective Strategy
If you don't know how to build an online presence, you don't have to worry about it because your outsourcing company will have some good ideas and strategy on how to go about it.
Use In-House Resources for Other Tasks
Since you will outsource all your time-consuming tasks, you will have time to concentrate on other relevant aspects of your business.
Outsourcing is Affordable
Outsourcing is usually affordable compared to bringing in a full-time marketing group. It can even be less expensive than hiring an individual team member!
Integrate with Your Existing Strategy
Your outsourcing partner can easily integrate all your social media activities with your marketing strategy to give you the best results.
Regular Reporting and Support
Your outsourcing partner will provide you with regular reports on the activities and progress of your marketing efforts to help you avoid some costly mistakes. They can also teach your employees how to handle and manage different social media tasks.
Cons: When Are You Better Off Not Outsourcing?
Outsourcing the management of your social networks also comes with some drawbacks. Here are some of the disadvantages you need to be aware of before choosing this option.
Could Still Be Time Consuming
There might be a lot of communication with the outsourcing partner, which can consume lots of valuable time in some cases. However, if you outsource to the right company, this will likely not be the case.
Lack of Control
Social media outsourcing involves giving up control, and some of the final decisions are always on the outsourcing partner. However, this also depends on the company you choose to take care of your social media. A good agency will keep you in the loop.
Maintain Your Brand Image
You require a particular tone of voice that distinguishes your brand on social media networks. If your outsourcing partner fails to get the right tone, it might cause a commotion among your audience. However, this also depends on the quality of your outsourcing partner.
Social media networks are an integral part of every business that operates online. However, your chances of success can significantly decrease if your company does not have a social media presence. Outsourcing your social media tasks can be the best option if you cannot or don't know how to manage your social networks for any reason.
Categorized in: Social Media
LIKE AND SHARE THIS ARTICLE:
READ OTHER DIGITAL MARKETING RELATED ARTICLES FROM THE BRICK MARKETING BLOG: