3 Common SEO Misconceptions
Written by Nick Stamoulis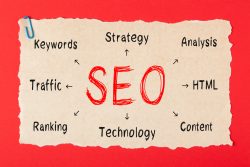 Even though search engine optimization has been around for years, it's still a marketing tactic that many website owners don't quite understand. This is partially due to the fact that the industry is always changing. What was an acceptable SEO practice even just 6 months ago might no longer be valuable to an SEO program. The search engines are constantly tweaking the algorithms and are on the look out for what they consider to be ways that website owners try and game the system. Many website owners are still left with the wrong impression of what SEO does and what its purpose is.
Here are 3 common SEO misconceptions that website owners need to put out of their heads:
Ranking is the top priority
Some website owners that get involved with SEO think that it's a way to get to that coveted #1 spot on the search engine results page. In some cases, it might work out that way, but in most cases it won't- at least not for a few years anyway. The search engine space is extremely competitive. If a website that has been around awhile and has gained that search engine trust is sitting at #1, it might be impossible to knock them out. Also, search rankings fluctuate. You might be #3 one day, and #7 the next. Does that mean that your SEO is failing? No, it means that factors that are out of your control are coming into play- like the location of where the search was conducted or the previous search behavior of the person conducting the search. Instead of focusing on rank, website owners should pay attention to visitor growth to the site from the search engines over time.
Branded keywords mean SEO isn't working
A website owner may notice in Analytics that the majority of keywords delivering traffic to the site are branded keyword variations, meaning that the company name is included in the keyword phrase. This means that people already know the brand name before searching, which is a credit to all marketing and branding efforts. If the majority of keywords are branded, does that mean that SEO isn't working and isn't worth investing in? Not at all; instead of comparing branded keywords to non-branded keywords, it's better to compare the growth of non-branded entrance keywords over time.
Quantity of links is important
Inbound links are what help to convey trust to the search engines. If sites are linking to your site, there must be something of value there. Originally one of the goals of SEO was to build as many inbound links to the site as possible. However, the search engines now recognize that not all links are good, especially the links that are manufactured purely for SEO gains. The only links that will actually help are the ones that occur naturally. Website owners need to be careful when it comes to link building practices and focus on building links that will generate traffic to the site, instead of building a link just to get a link.
Categorized in: SEO
LIKE AND SHARE THIS ARTICLE:
READ OTHER DIGITAL MARKETING RELATED ARTICLES FROM THE BRICK MARKETING BLOG: