What to Look for When Hiring an SEO Copywriter
Written by Nick Stamoulis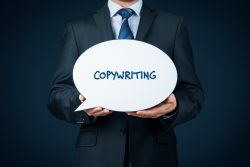 Not every business owner or marketing manager is going to be a great writer, and that's okay! For some people writing just comes naturally—they know how to craft a story, make a point, teach the reader something and keep someone engaged for 1500+ words. Others struggle to come up with even a 500 word blog post every other week and dread sitting down and staring at a blank document on their computer screen. If you are one of those in the latter category then chances are you have considered hiring an SEO copywriter at some point. You understand how important great content is for your business and your long term SEO success and you want to make sure your brand is creating the best content possible—but how do you go about finding a great SEO copywriter?
Here are 3 things to look for when hiring an SEO copywriter:
1. Do they have a blog of their own?
The very first thing you want to look for when considering hiring an SEO copywriting is to get your hands on as many samples of their writing as you can. A good freelance SEO copywriter will probably have a blog of their own that they update on a routine basis; they might also write for other industry sites or publications and have those listed on their site as well for reference. If a potential SEO copywriter tells you they've written for this and that blog and has dozens of clients but can't actually show you anything I'd think twice about hiring them. Think about it like this—would you hire a babysitter that couldn't provide you with references? Would you just trust that they knew what they were doing? Your brand is your baby and the person behind your content is responsible for what happens next!
2. Do they understand your niche?
Now I'm not saying that you can only work with an SEO copywriter that exists within your niche. There are plenty of great writers out there that can write about anything as long as they get the right resources from their clients. But depending on the industry your business operates in it might make more sense to work with an expert. For instance, Brick Marketing offers a blogging service for our full service SEO clients and for the most part our team can create content for the majority of our clients fairly easily. But we aren't doctors, or lawyers, or chemical engineers—these industries require years of education and expertise to be able to produce the kind of content that helps a brand become a thought leader. If your company works in such an industry it's worth looking for SEO copywriters that specialize in your field.
3. Do they sacrifice quality for SEO?
This might sound crazy coming from an SEO professional, but you can't always put SEO first when it comes to content marketing. Yes, content should be optimized naturally to help it perform well in the search engines, but first and foremost your content needs to be written for human readers. A good SEO copywriter should know and understand that concept. Someone who tries to pitch you a piece of fluff content that is just designed to rank well but not actually provide any value to your readers isn't worth your budget.
Categorized in: Content Marketing
LIKE AND SHARE THIS ARTICLE:
READ OTHER DIGITAL MARKETING RELATED ARTICLES FROM THE BRICK MARKETING BLOG: