Pros and Cons of SEO
Written by Nick Stamoulis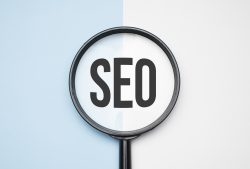 There was a time when the main focus of marketing a business online was by using strategies surrounding search engine optimization. While it still plays a role in digital marketing, there are other strategies that are also used, such as social media and content marketing.
It can be argued that social media and content were always important, as well, but they were often viewed in the context of SEO. Times have changed, and SEO is seen as a part of the bigger digital marketing picture.
The goal of SEO is the same now as it always was – to boost your organic presence. However, many businesses are left wondering how it fits in with their overall digital marketing strategies.
A good place to start this analysis is to assess the pros and cons of SEO. Here's more information:
PROS
Excellent ROI
One of the reasons why SEO delivers a high return on investment is its ability to drive high-converting traffic to websites. When done correctly, search engine optimization puts your website directly in front of the people looking for the product or service your business provides. This means that SEO can be effectively used as a tool to connect your business's website to the right audience.
Boost Organic Reach
At both a local and national level, search engine optimization is a powerful tool to organically boost your business' reach. By producing and distributing content that your potential customers are interested in, your business can reach a highly targeted audience.
Deliver Long Term Results
Search engine optimization provides long-term results in comparison to other digital marketing strategies like Pay Per Click advertising, which perform better in the short term. While the results of SEO aren't permanent, they last much longer than PPC and other marketing channels.
CONS
Results Can Take A While
In comparison to other growth methods like Pay Per Click advertising, search engine optimization is more of a long-term strategy. Often, implementing SEO best practices can take months or even years to begin to pay off. Google says to anticipate that many SEO companies can take anywhere from 4 to 12 months to see results.
There Are No Guarantees
While search engine optimization is a great strategy, at the end of the day there are no guarantees that your efforts will land you in the first position of a Google search results page. In fact, Google has warned businesses against contracting any company that guarantees your business to rank on the first page of any search result.
With Google's dynamic algorithm changing page rankings on a daily basis, one major algorithm update could entirely undo years of effort that you've put into ranking your website.
Further, nobody truly knows the details of Google's proprietary algorithm. The workings of Google's ranking algorithm are largely kept under wraps, with Google only revealing small tidbits. This keeps search optimization experts on their toes, constantly adapting to new changes and unknown variables that could change their entire strategy overnight.
Can Be Competitive
If your business falls into a highly competitive industry and doesn't have a large budget, it can take an extremely long time to catch up to more established competitors using search engine optimization strategies alone. This, however, can be overcome with time and patience. It's also another reason why results can't be guaranteed. You can try to achieve better organic results than your competitors, but there are so many factors involved, especially if there is a lot of competition, nothing is set in stone.
Before starting your SEO program, you should weigh the pros and cons. Many of the disadvantages, such as the fact that results aren't guaranteed and that it can take a while to show success, by employing other strategies at the same time, like pay per click and social media advertising.
Categorized in: SEO
LIKE AND SHARE THIS ARTICLE:
READ OTHER DIGITAL MARKETING RELATED ARTICLES FROM THE BRICK MARKETING BLOG: