Should You Overhaul Your Business Website?
Written by Nick Stamoulis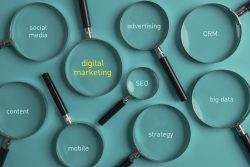 How long has it been since you've made any aesthetic changes to your website? Once the business website is up and running, we tend to put it out of our minds. As we perform the daily activities needed to market our businesses, convert leads into paying customers, and make sure our existing customers are satisfied, the website takes a back seat. In some cases, years could go by without giving the website a second thought.
The problem is, the website forms the core of your marketing efforts, not just for digital marketing. Even offline marketing relies on the website, since you will likely be directing people to your site to get more information about who you are and what you do. Here's some information that will help you decide if you should overhaul your website or not:
Outdated Design Can Do More Harm Than Good
A website seems to have a shelf life of only a few years before it starts looking dated. This is a reflection of the changing needs of your customer, as well as the changing habits of your buyers. When people search online, they want the websites they visit to look fresh and modern, and if your website looks dated, it could be losing you some customers. If your competitor just overhauled your site and you've had the same design for seven years, they could be clicking away from your website and giving their business to your competitor.
They may not know exactly why they didn't choose you, but chances are pretty good that the outdated appearance of your site gave them the impression that you would't do a great job of serving their needs. On the other hand, if you both have a fresh and modern website, and you have more experience, people wouldn't hesitate to give you their business. When your website is outdated, it makes your business look outdated, as well.
Increase Conversions with Newer Designs
When a website starts looking dated, this affects more than just its physical appearance. Usually, changing design trends reflect the changing needs of online users. Those wishing to connect with companies and make buying decisions have certain things that they look for when visiting a website. They expect that the information they need to be located in certain areas, and if the information isn't where they expect, such as your contact information, you could lose them.
In other words, on the surface it may seem that you are simply altering the appearance of the website when you make visual changes. However, that isn't the whole story. A good redesign takes into account the big picture, and this include usability concerns, such as finding information about your company, as well as finding new ways to boost conversions.
So, how do you know if you need to overhaul your website? The answer is pretty simple. If your competitors have been changing their appearance, you should consider doing the same thing. You should also overhaul your website design if you've experienced a drop in conversions and leads. One of the reasons why your leads could be falling off is that your website could be outdated.
Categorized in: Digital Marketing
LIKE AND SHARE THIS ARTICLE:
READ OTHER DIGITAL MARKETING RELATED ARTICLES FROM THE BRICK MARKETING BLOG: