Consider Outsourced Digital Marketing As Part Of Your Team
Written by Nick Stamoulis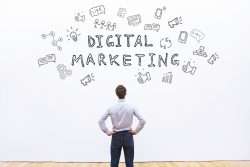 According to Webster's Dictionary, marketing is defined as "the process or technique of promoting, selling, and distributing a product or service." It's true that companies need to have certain marketing tasks accomplished in order to see an increase in business. After all, without marketing, people won't know about the business and what it has to offer. It doesn't matter the size of the business, the industry, or the types of products and services that are offered. Marketing activities are needed in oder to
The problem is, not every business has the in-house resources needed in order to achieve the kinds of results they desire. This is when it might be a good idea to outsource the tasks to a digital marketing agency. However, in order to get the most out of this relationship, it is a good idea to consider them a part of your team. Here are some insights that can help:
Give the Relationship a Good Start
One you know that the agency is a good fit for your business, the next step is that both parties should work on building the relationship. What does this mean exactly? Well, you should both start out by getting to know each other. In this case, it means that the team at the agency should really take the time to get to know your business. They should analyze your existing data, get to know your business goals and what you are trying to accomplish going forward, and also get to know the types of marketing strategies that you may already be working.
Your relationship will grow from there. By starting the relationship off this way, it helps build a rapport with the team at the agencies. It also assures you that they know exactly what needs to be done in order to help you succeed. As they execute the program, they should keep the lines of communication open, telling you exactly what they are doing, as well as providing you with regular reports.
Make Them a Part of Your Team
In this case, building a great relationship with your digital marketing firm is about more than just communicating. There has to be evidence that things are heading in the right direction. As they work through the program, you should know exactly what is happening. You should also be able to see improvement.
This is where the magic happens. When you have a relationship based on trust and your organic results are improving, this means that you have found a great agency to work with. At this stage, you know that you not only have found a great partner for the marketing tasks that you need help with, but you have, at your disposal, an extension of your existing team.
When they become a valued member of your team, this will enable you to have the results that you want. It's all about mindset. If you treat them as someone you've hired, you won't reap the benefits. When they become a valued member of your team, you will be able to maximize your results.
Categorized in: Digital Marketing
LIKE AND SHARE THIS ARTICLE:
READ OTHER DIGITAL MARKETING RELATED ARTICLES FROM THE BRICK MARKETING BLOG: