Attracting Natural Links for SEO
Written by Nick Stamoulis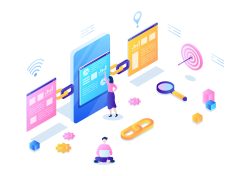 It's not enough to just have great links coming to your website, they also need to be relevant. When they're relevant, you don't need to work too hard in order to attract these backlinks because less is more. It is better to have a smaller number of high-quality links than a larger number of so-so or even questionable ones. The best way to have great backlinks coming to your website is to attract them naturally. Here are some tips on how you can do that.
Take a Conservative Approach
The best way to get these high-quality backlinks coming to your website is to take a very conservative approach. It's just too risky otherwise. If you engage in what Google terms "link schemes", you can be penalized. Since poor backlinks creates a bad user experience for those who use the search engines, Google cracked down.
This is how Google defines a link scheme:
"Any links intended to manipulate PageRank or a site's ranking in Google search results may be considered part of a link scheme and a violation of Google's Webmaster Guidelines. This includes any behavior that manipulates links to your site or outgoing links from your site."
Therefore, the best approach is to let the links come naturally. If you do anything unnatural or aggressive, you could get dinged.
Create Great Content for Your Website
The best way to attract natural links is to create great content for your website or blog and then share that content on social media. When people see your content and enjoy it, they are likely to share it with others, and maybe even link to it from their own websites and social media profiles.
Although you can't predict how well the content will be received, you can take the extra step of understanding what your target audience is looking for when they are searching for information online. If they like what they see, they are more likely to want to let other people know about it.
If they like it, they will either share your whole website to their own audiences, or share the specific link for the content they find useful. Both options will benefit you and help grow your link portfolio.
Learn How to Have Patience
These days, patience really is everything when it comes to developing a quality backlink portfolio. The reason for this is that you really can't do anything overt to get these backlinks, otherwise Google could accuse of trying to create a link scheme. All you can do is perform your digital marketing plan as a whole, including creating great content on a regular basis, and wait for the backlinks to come.
You can't force it when creating backlinks, the most you can do is learn how to attract your target audience through your digital marketing, and wait for the backlinks to come – and they will come. There's just no way to say how long it will take. This is why patience is so important. You don't want to get impatient and try to force things, and then get a penalty.
Categorized in: SEO
LIKE AND SHARE THIS ARTICLE:
READ OTHER DIGITAL MARKETING RELATED ARTICLES FROM THE BRICK MARKETING BLOG: