Measuring Success in Digital Marketing
Written by Nick Stamoulis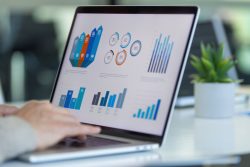 There's no doubt that digital marketing is an important part of your business. There are many components to a digital marketing strategy, and it could take some trial and error before you find he right mix for your needs. Along the way, you'll want to measure success – but how do you do that? Not only do you need to collect and analyze the data, but you also need to know when to make changes to the strategy, and when to just wait it out. Since much of digital marketing is long term, you will want to give the program enough time before you make changes.
Set Realistic Goals
The whole process starts with setting goals. These goals can be anything from gaining more followers on social media platforms to getting people to download a certain piece of content, sign up for for your newsletter, get more organic traffic, or even make sales. Make sure that your goals are realistic, though, and that the timelines make sense. If you want to double your organic traffic by implementing an SEO strategy as part of your digital marketing you can't expect this to happen overnight.
Research Your Target Audience
Once you've set your goals, it's a good idea to look at your target audience and see how they react to different kinds of digital marketing. You can review the kinds of things they're looking at online and what they do online to find out how your digital marketing affects them. If you aren't hitting the right audience with your campaign, you most certainly wouldn't reach your goals!
Discover Your Ideal Marketing Channels
There are many different kinds of online marketing channels that businesses can use, and you must choose the one that will have the best effect on your business. Remember that when it comes to digital marketing, you need to build a foundation with all your core strategies. These include social media marketing, content marketing, SEO, digital advertising, and more. Not that it might not make sense for you to do everything at first. For example, you might not want to advertise until the elements are in place. It all depends on your business.
Analyze the Results of Your Efforts
Once you've chosen a marketing channel, you'll need to analyze the results of your efforts to make sure that they're working well for you. You can use analytics and data mining tools to compare your results to similar businesses in the same industry. It might also be good to monitor things like social media platforms and see how people respond to your content. You can use a third part service for collecting data, or you can use the data reports generated by different websites such as Google, the social media platforms, and your newsletter service.  Make sure you focus on the big picture and whether you are seeing upward trends or not. Getting hung up on the day-to-day data can cause more harm than good.
Make sure that you find a way to measure success when it comes to digital marketing. but you also want to focus on the big picture. Some strategies take a while to work, and you want to give your campaigns enough time.
Categorized in: Digital Marketing
LIKE AND SHARE THIS ARTICLE:
READ OTHER DIGITAL MARKETING RELATED ARTICLES FROM THE BRICK MARKETING BLOG: