Maintain Your Core Digital Marketing Before Diversifying
Written by Nick Stamoulis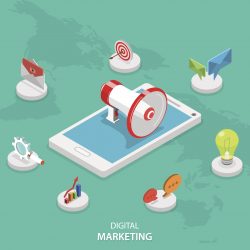 When it comes to digital marketing, it is true that diversification can increase your rate of success. However, it is also possible to have so many marketing channels open that none of them end up being truly effective. The best approach is to find a balance between diversification, and making sure you're not taking on too much. In other words, it is a good idea to have your core marketing strategy in place before working with other digital marketing avenues.
Here's more information about tips to help you focus on your existing digital marketing:
Focus on Your Core Marketing
Before you can really start to expand your marketing, you really need to have a core marketing strategy that you work on a consistent basis before you branch out into other things. It is important to set this strategy in place and work it for at least a few months before you add in new things. For example, you might want to consider developing a comprehensive SEO strategy that includes onsite optimization, keyword research, content, social media link building, and more. Once the core SEO tasks are part of your routine, you can start branching out.
Take Your Core Marketing to the Next Level
Before branching out to other marketing channels, you also make want to consider taking your core marketing activities to the next level. For example, the strategies involved with content marketing and social media in relation to SEO can be incredibly simple. In general, new content is created on a regular schedule, and then this content is then shared in social media. Consider expanding on these basic strategies before you branch out even further into other marketing. Develop a more comprehensive content strategy. Create social media posts beyond what you're already doing. These are just some suggestions,  as strategies would change depending on the nature of the business.
Determine How to Best Diversify
After your core marketing is in place, it's time to start considering diversification. Examine what strategies are already working for you before you take on other marketing channels. At this stage, you may want to consider marketing activities such as pay per click advertising, social media adversing, working with other social media platforms, and undergoing private advertising. You'll want to not only analyze your current results so that you can assess areas of improvement, but you will also want to find the best marketing channels that will do the most good for your business. For example, if you Facebook ads are affordable, yet you know your customers don't really use Facebook, you might want to think twice before advertising on this platform.
When you do add in other marketing channels, it is a good idea to do so conservatively so that you don't take on too much. That way, you can achieve a balance between diversification and achieving a manageable work flow. The ultimate goal is to increase business, and you don't want to diversify in a way that will hurt your goals, not help them.
Categorized in: Digital Marketing
LIKE AND SHARE THIS ARTICLE:
READ OTHER DIGITAL MARKETING RELATED ARTICLES FROM THE BRICK MARKETING BLOG: