Hire a Digital Marketing Agency Based on Their Expertise
Written by Nick Stamoulis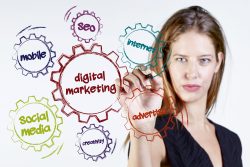 Have you hired digital marketing agencies in the past that simply didn't do as great of a job as you hoped? If this is the case, chances are pretty good that you didn't hire them based on their expertise, you hired them for other reason. Maybe the price was right.
Maybe their sales process led you to believe they had skills that, as it turns out, they actually didn't have. There are a lot of companies out there, and not all of them will be forthcoming about their skills, track record, and experience.
The truth is, you really need to hire a company based on their expertise alone, and not on the bells and whistles. How can you tell the difference? Here are some thoughts that will help you know whether or not the agency displays true expertise or not:
Be Wary of Agencies that "Cold Market"
Did you receive a cold call or email from a digital marketing agency? Usually, these types of messages mention some kind of a shortcoming they believe you have in your marketing program. The reality is that these messages are usually template-based and not very genuine. It's just a ploy to get you to respond to their message. It's also not very honest.
All these people really want is to get you on the phone or to engage with you over email. They're looking to make the sale, which means that they may not have your best interests at heart. In fact, they really are only concerned with one thing – getting you to become a client so they can make money.
Good Agencies Practice What They Preach
One of the biggest indicators of a good agency is that they practice what they preach. Do they have a good presence on social media? Do they dominate branded search? Do they have a good reputation online? Do they have a great website that accurately showcases what they do? In other words, you need an agency that executes on the tactics that they will put to work for you. If they have outdates social media, have stopped posting new content on their blog, or don't dominate branded search, the agency you're thinking of hiring may not be everything they claim to be.
They Express Interest in Getting to Know Your Company
Too often, digital marketing agencies have a set program that they use on their clients, and the plan doesn't really change no matter who they work with. The problem with this is that not every business is created equal. Each business is unique, and because of that, no two marketing plans should be exactly the same. This is the number one thing that sets a qualified agency apart from the others. By expressing a genuine interest in your business, you will know that they will likely customize the plan to align with your goals and worth with your particularly marketing or industry. If they don't express an interest in the uniqueness of your business, this is a red flag.
When it comes to hiring a digital marketing agency, you definitely want to choose someone that conveys their expertise!
Categorized in: Digital Marketing
LIKE AND SHARE THIS ARTICLE:
READ OTHER DIGITAL MARKETING RELATED ARTICLES FROM THE BRICK MARKETING BLOG: