What Lazy SEO Looks Like
Written by Nick Stamoulis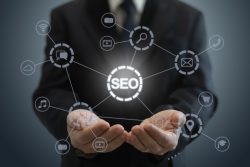 There are many SEO industry professionals and it's likely that nobody takes exactly the same approach to an SEO campaign. However, if your business website is in the market to hire an in house SEO professional, an SEO consultant, or an SEO firm the one thing that you want to make sure of is that they aren't going to take the lazy SEO approach. Lazy SEO isn't going to generate the types of results that management is going to want to see. A proper SEO campaign can take months to see results, so a lazy SEO campaign is certainly going to take even longer and you may never even see the upward trend in organic visitors that you'd like to see. Basically, lazy SEO is a waste of time. If you're going to do it, do it right and follow SEO best practice.
Here's what a lazy SEO campaign looks like:
No keyword research
People search using keywords or keyword phrases. If you want your website content to appear for searches related to the products that you offer, these keywords (or a variation) must be included in the content of your website. Many website owners make the mistake of thinking that they already know what keywords to target and skip this step. This can result in many missed opportunities. Keyword research will tell you what the search volume is for specific keywords and point out some long tail keyword opportunities that you might not have thought of, and it's the long tail keywords that often generate the most relevant traffic that is likely to convert.
Only optimizing "priority" pages
For larger websites, keyword research and on site optimization can be a time consuming process. That's why it's tempting to cut corners and only optimize the "priority" pages that make up the top level navigation and are generating the most visits. However, SEO best practice is to optimize every page of the site. Every page is an opportunity to target different keywords that could generate traffic, and business!
Only obtaining easy win links
Inbound links to your website are what help to convey trust to the search engines. There are plenty of inbound links that you can obtain, but the ones that are actually valuable to your website usually aren't that easy. Submitting your site to lots of low quality directories, for example, might get you a certain number of inbound links but they aren't going to do much to help your website. Focus on building links from sites that your target audience actually visits.
No (or very little) content
Content is an essential part of an SEO campaign today. Ongoing content creation is necessary in the form of blog posts, guest posts, and social media posts. If you aren't producing content that incorporates keywords, there is less of a chance of being found in the search engines. Content is also what gets shared and generates natural inbound links back to the website.
Categorized in: SEO
LIKE AND SHARE THIS ARTICLE:
READ OTHER DIGITAL MARKETING RELATED ARTICLES FROM THE BRICK MARKETING BLOG: