Know When to Really Use PPC
Written by Nick Stamoulis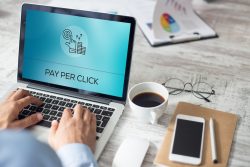 Pay per click advertising is a digital marketing strategy that allows you to spread the word about your business in a calculating way. It enables you to specify target audiences, which enables you to showcase your ads only to the most relevant of situations. This type of advertising is keyword driven, which means that you can only select keywords that will pair you up with the right people.
PPC is a valuable marketing tool, but only when it is used correctly. Just like any tactic in the digital marketing space, it is not a good idea to rely exclusively on it. There are also optimum situations where it is best used. The goal here is to use it in the best way possible to get the most out of it.
Here's a look at some of the best situations to use PPC advertising:
While Waiting for Organic Traffic to Pick Up
SEO is an earned medium and it takes consistent effort for a sustained period of time in order to reap the benefits. The problem is, it would be nice to help a business gain momentum before organic traffic and rankings really start to gain momentum. This is a great time to utilize PPC because you can implement a great program that will allow you to get some traffic before the organic traffic really starts to pick up. At that point, you could always stop the PPC program or dial it back. In some situations, it might not be a good idea to stop the program entirely, depending on the business.
PPC Can Help With Branding
When it comes to marketing your business, it is a good idea to give people multiple chances to be exposed to your brand. Let's imagine that you actually do get a fair amount of organic traffic because some of your keywords are well placed. Also imagine how much better it would be if your PPC ad appeared on the same page as a first page listing when someone searches for a keyword in the search engines. Now jut imagine if they they already saw your brand in a social media post or other medium? If people have been exposed to your brand multiple times, they are far more likely to click to visit your site.
Certain Businesses Show Great Results With PPC
Not every business is suited for a PPC campaign, but there are some that really thrive with it, no matter what the situation is. There are some things to consider when determining if you're a business that really would benefit, such as cost per click, competition, and whether or not your business actually needs it to drive traffic and leads. Your overall budget for PPC will also be a factor. If you don't have a lot of money to spend, it might not be a good fit for your niche, especially if your industry is showing high cost per clicks for important keywords.
Pay per click advertising can really help you gain momentum in your business, especially as you're waiting to see results from your other marketing efforts. It offers a great way to potentially maximize results!
Categorized in: Digital Marketing
LIKE AND SHARE THIS ARTICLE:
READ OTHER DIGITAL MARKETING RELATED ARTICLES FROM THE BRICK MARKETING BLOG: