Are Keywords Really That Important?
Written by Nick Stamoulis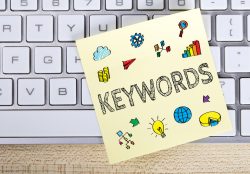 Search engine optimization is an important part of digital marketing. Many of us look at keywords as an important starting point when it comes to SEO. While that is the case, it is important not to get too attached to the idea of using keywords to help a website get noticed by the search engines.
While this may seem counterintuitive, it is important to get out of the mindset of focusing exclusively on the keywords themselves. The needs of your audience should be your number one priority on your website.
Avoid Irrelevant Keywords
One of the dangers of focusing on keywords too strongly on your website is that it puts you at risk for having what Google calls "Irrelevant Keywords". According to Google's Webmaster Guidelines, irrelevant keywords involve activities such as keyword stuffing, which is defined as "the practice of loading a webpage with keywords or numbers in an attempt to manipulate a site's ranking in Google search results."
Although we may already know that keyword stuffing is a no-no, we are certainly at risk for stuffing a page with too many keywords without realizing it. It is much better to write our content naturally. In doing so, we will naturally have written relevant keywords in the content. When the content is written naturally, it is much easier to add an extra keyword or two within it, as long as it is a seamless fit for the copy.
Audiences Are Sophisticated
These days, your audience is sophisticated enough to know when you are trying too hard to use keywords in your copy. It is a complete turnoff to them because it leaves the with the feeling that they aren't your first priority. Copy that is written with a lot of keywords, to them, is clearly written for the search engines and not for them. In order to please your audience, you need tomato sure your content makes it clear that they are your first priority, not the other way around. After all, the main point of your website is to attract new customers! They know right away when you aren't putting them first, and they will click off your site quickly and never written.
Don't Ignore Keywords Completely
That being said, it is still important to do keyword research and incorporate them into your SEO program. It is just very important to take a conservative approach. The research can give you clarity into the types of content your audience might look for, it's just a good idea not to overdo it and take a balanced approach. The reasons for this is that the search engine's algorithms are much more sophisticated than they have ever been.
Google likes to have a clear idea of what your page is about, and they don't need a lot of keywords in order to figure it out. Their goal is to find the most relevant pages to return in search results. If your content matches the searcher's query, regardless of whether or not the keywords are present on your page, you stand a good chance of being returned in the search results.
Categorized in: SEO
LIKE AND SHARE THIS ARTICLE:
READ OTHER DIGITAL MARKETING RELATED ARTICLES FROM THE BRICK MARKETING BLOG: