Deep Linking Can Work Well to Enhance SEO
Written by Nick Stamoulis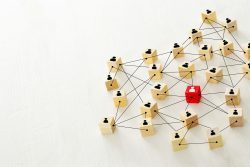 These days, search engine optimization is looked at as an extension of digital marketing. This is how it should be perceived. However, many believe that the tactics that were once effective in SEO may not be relevant. This is simply not true. Many seem to ignore strategies like deep linking, but the truth is that it can really help.
Some people confuse deep linking with backlinks. These are two completely different concepts. Deep linking only pertains to creating links from one page on a website to another page of the website. Here are some things to keep in mind when creating deep links:
Get to Know Deep Linking
Deep linking should be considered within the context of your website. When organizing your website, you likely spent a lot of time coming up with your regular website architecture. This relates to your menu bar and navigation in general. However, deep linking presents an opportunity beyond that.
This technique enables you to link from one page of content to the other beyond the scope of the formal site architecture. For example, if you are writing a blog post about a topic, and it relates to another blog post, a deep link would be too sure that post in the new piece of content.
Remember that deep linking only makes sense if you are able to do it in a natural way. Also remember that it is only effective if your readers find value in the links. Google is interested in helping increase usability and the experience of your readers. If you don't do that, deep linking will do nothing for your SEO.
Deep Linking Should Increase Usability
It is important to understand that when it comes to deep linking, your end goal might be to enhance SEO. However, this should not be your purpose. Your purpose should be to link in a way that increases usability. The linking has to make sense.
For example, let's say you are writing a a series of blog posts on a particular topic. With each new addition to the series, it makes sense to link to the previous contributions to the series in each new article. Users who read "Part 3" may be interested in reading Parts 1 and 2, as well, especially if they missed the previous series.
This is a tactic that can work in a variety of scenarios. Each time you are considering leaving a deep link, you should consider if it increases the usability of your site. If the answer is no, the deep link might be considered a distraction, it might have the opposite affect. In this case, you should forget creating these links. Your users need to come first.
Remember that deep linking is all about usability. If the link somehow enhances the user experience on your website, you should do it. If not, you shouldn't use this strategy. If your users are unhappy, Google will figure it out, and your deep links will do more harm than good.
Categorized in: SEO
LIKE AND SHARE THIS ARTICLE:
READ OTHER DIGITAL MARKETING RELATED ARTICLES FROM THE BRICK MARKETING BLOG: