Increase Online Presence with Digital Marketing
Written by Nick Stamoulis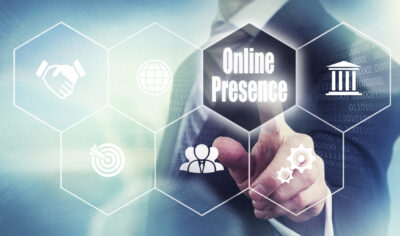 Digital marketing is a way to market products and brands online, typically using the internet. Individuals use various techniques on social media, blogging sites, forums, and search engines to get their message across. Online marketing is not limited to just websites; it can also be done through print ads or television commercials. Social media advertising involves using the media today's consumers use daily, such as blogs, Facebook pages, and Tweets. The internet provides an efficient, relatively cost-effective platform that allows business owners access to a vast customer base.
What is an Online Presence?
When a person or business has an online presence, it means they have a website and actively promote their services to the general public. These businesses use social media, print media, and search engines to communicate their message. An online presence allows them to market on the internet and, in many cases, at a lower cost than traditional marketing channels.
Social media plays a vital role in marketing because it helps businesses increase their presence on the website and, in general, increase their customer base by providing them with personalized services.
Here are some ways you can improve your online presence:
1. Create a Stunning Website
A website gives the first impression of your business and, therefore, should positively speak about your business. It should not be cluttered with text; relevant information must be provided in an easy-to-understand format. The design should be professional, inviting, and easy to navigate so that visitors can easily find what they are looking for.
2. Maintain Your Social Media Presence
Social media sites such as Facebook and Twitter are good places to spread the word about your business. By creating a Facebook page, your customers will be able to engage with you, and you will get a chance to interact with them which adds value and enhances your online presence. They will also have the opportunity to provide feedback about their experience with your business, and this valuable information is an essential source of information for improving your business strategy.
3. Adopt New Social Media Platforms
Platforms like Instagram are growing in popularity and should be included in your marketing strategy. They are a great way to interact with customers and show them how your products can improve their daily lives. Customers love visuals which is why Instagram is your best tool for promoting products, as it allows fresh and creative ideas to come across. Most companies like to provide incentives to customers who help them improve their company by giving them discounts, freebies, and other benefits.
4. Get Noticed by Major Search Engines
Get your business found through search engines like Google and Bing by ensuring that you have a website. This is done by having a professional corporate website with an easy-to-navigate navigation menu and an internal link system that offers an intelligent way for users to navigate your website. It is essential to ensure that your content is relevant, clear, and provided in an easily understandable format. To improve your site's search ranking, you can employ Search Engine Optimisation (SEO).
Online marketing is a growing trend where businesses can use social media and the internet for advertising their services and products. The internet provides an efficient platform that allows a business owner access to a vast customer base. Digital marketing is vital to have your site updated and branded with your company photograph, which helps people to know about you no matter where they are.
Categorized in: Digital Marketing
LIKE AND SHARE THIS ARTICLE:
READ OTHER DIGITAL MARKETING RELATED ARTICLES FROM THE BRICK MARKETING BLOG: