Don't Be Afraid to Hire a New Service Provider for Digital Marketing
Written by Nick Stamoulis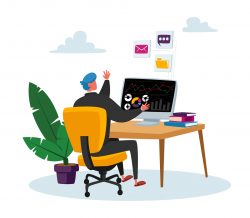 So, you've had a digital marketer service provider for a while and you think things might be going well. They write articles, post social media, and make sure your digital marketing strategy is up to par. Lately, though, you are starting to get the feeling that you might want to move on, but might be hesitant. What should you do?
There is no easy way to answer this, but one thing that we've found is that if your gut says it is time to move on, it might at least worth thinking about. Still, there might be some fear and hesitation associated with it. Don't be. Moving on from you current service provider could be a good thing. Here's why:
Freshen Up Your Digital Marketing
If your results are at a standstill, it could very signify that you need to change providers. Working with a new company will breathe new life into your digital marketing, while also honor the results you've had thus far. Different service providers have slightly different approaches, and different experiences to draw from. This is a good thing because you can now take advantage of this new perspective.
Sure digital marketing agencies are all using similar principals as the backbone of what they do. However, not all of them know how to best execute a digital marketing strategy that will perform the best for you. Sometimes you need a new perspective to get you past the plateau.
Get the Same or Better Work for Less
Have you ever stopped to consider how the agency you are working with stacked up from a pure cost perspective? We have seen this a lot over the years. Some service providers charge over-inflated prices, and  the quality of the work doesn't stack up well against such a price jump. You don't need to spend a considerable amount of money to get high quality results.
Of course, you want to find that balance. You don't want to spend so much money that you question whether or not you are really getting the quality. You also don't want to necessarily hire the least expensive service provider, because then you are in danger of not getting the results you want. It's all about finding a balance between the two.
Lack of Alignment Concerning Vision and Goals
Have you tried to share with your current digital marketing provider your vision and goals? Do the seem to understand what you are trying to accomplish? If not, you should let them go and find an agency that does. After all, you know what is best for your business. Your digital marketing provider should listen to your goals clearly and develop a strategy to help you achieve them. If not, it's time to make a change.
One thing that we have noticed is that there is no one size fits all approach when it comes to digital marketing.  You need to find the strategy that will best for your business and your goals. If you feel that your needs aren't being met, you should definitely walk away.
Categorized in: Digital Marketing
LIKE AND SHARE THIS ARTICLE:
READ OTHER DIGITAL MARKETING RELATED ARTICLES FROM THE BRICK MARKETING BLOG: