Should You Still Write Guest Posts?
Written by Nick Stamoulis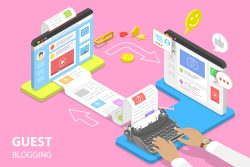 There was a time when guest posting was an incredibly popular marketing tool, particularly for SEO. Those days are long behind us, thanks to Google cracking down on how websites obtain backlinks. These days, backlinks should be natural and not forced. Back when this was a viable tool for backlinks, guest posting was so popular that it started to lose its impact.
Now, guest posting is still a great marketing tool, but in a different way than it used to be. In other words, it is a tactic that shouldn't be used if the sole purpose is for backlinks. How do you know if this is a tool that your business would benefit from? Here are some ways that guest posting can still be valuable:
Be Seen as an Authority
If you are trying to build credibility and authority in your industry, guest posting can be a perfect way to accomplish that. In order to make the most of this, it helps to find blogs that are considered to be authorities in your industry. Many of these sites have an editorial process, much like a magazine, in order to encourage quality control. This is great for their audience because readers know they can trust the content that the site chooses to publish, and will therefore allow them to trust your expertise.
Get a Boost in Social Media
One thing that guest posting can do for you is increase social signals back to your website, which can give your SEO program an indirect boost. When writing a guest post, you can leave the links to your social media accounts if the website allows it. People will naturally visit your pages if they enjoyed your article just because they were curious about you. This can not only increase traffic, but it can boost your search engine optimization program. Although social media isn't considered an official ranking factor, it does appear to have an impact on rankings indirectly.
Encourage Branding
Guest posting is also really good for branding, especially when the articles are posted on industry authority websites. Once people read your content, they will naturally remember who you are if they enjoyed it. If they visit your website and social pages because of your article, this will also have a positive impact on branding. Over time, people will begin to view your brand in a favorable way. If you have multiple guest posts on different authority sites, this can also help boost your brand.
As mentioned above, using guest posting for backlinks is outdated. Not only that, but Google could classify it as a link scheme, especially if it is overdone. If you do start writing guest posts on other sites, it should be a calculated part of your digital marketing strategy and used in a way that enhances your brand. It is so important to take a conservative approach with guest posting. You want to do enough to give you a positive impact without giving Google a chance to ding you for a link-related penalty.
Categorized in: Digital Marketing, SEO
LIKE AND SHARE THIS ARTICLE:
READ OTHER DIGITAL MARKETING RELATED ARTICLES FROM THE BRICK MARKETING BLOG: