Grow Your Business with Digital Marketing
Written by Nick Stamoulis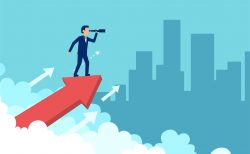 Efficient marketing is a prerequisite for any business that wants to grow by connecting with its customers. We are living in a digital age where millions of people are spending most of their time on electronic media. Many companies are increasingly becoming aware of this fact, thus are using these online platforms in a bid to convince more customers to buy their products or subscribe to their services.
The use of various digital marketing tools and techniques offers businesses a better chance of sustaining, competing, and growing. This is a super affordable marketing strategy that gives you a level playing field where you can segment and target the market with precision. Here's more information about some of the ways that digital marketing can grow your business:
Improves Reach
Trying to expand your business geographically using traditional marketing strategies can be tiresome, time-consuming, and expensive. However, digital marketing has no limitations when it comes to reaching out to millions of potential customers on a global scale. A digital marketing campaign is easy to set up, and it offers more flexibility, thus you can target your audience without a hitch.
The mobile internet market is growing steadily, and many medium-sized businesses have established an online presence. With millions of people using their tablets and smartphones to access the internet, you are in a better position to reach out to them with a well-planned digital marketing strategy.
Builds Your Brand's Reputation
Digital platforms are a good place for companies to enhance their brand reputation. Some businesses engage their customers with a well-developed website, social media platform, or quality blog with useful articles. With this kind of interaction and the ability to deliver what they promise, companies can effectively build a brand reputation. Improved brand awareness leads to higher conversion rates, which in turn enables your business to earn higher revenues.
Easy to Measure and Adjust
Measuring and ascertaining the success of digital marketing campaigns is easier compared to the traditional methods. With digital marketing, you will know almost instantly how your ad performed, as opposed to traditional methods where you have to wait for weeks or months to find out the outcome. For example, with email marketing software, you can tell how many were delivered, read, and their conversion rates.
With the increase in reliance on technology in the world of business today, digital marketing is the way to go for any company, regardless of size. Anyone that wants to prosper in business must embrace the concept as it is the current trend leading to future accomplishments. It is the most effective way to reach more consumers that are currently shopping online.
Categorized in: Digital Marketing
LIKE AND SHARE THIS ARTICLE:
READ OTHER DIGITAL MARKETING RELATED ARTICLES FROM THE BRICK MARKETING BLOG: