You Get What You Pay for With Digital Marketing Firms
Written by Nick Stamoulis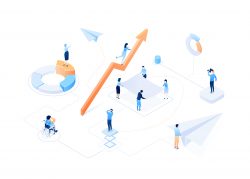 There is a popular adage in our culture that states, "You get what you pay for." Webster's Dictionary defines this sentiment by explaining that it is, "used to say that a thing that can be bought for a very low price probably isn't very good."
This could pertain to just about everything, such as a computer, article of clothing, or even a piece of furniture. It is also something that absolutely pertains to hiring someone to perform a service for you, as well.
When it comes to digital marketing, it stands to reason that you would want to hire experts to take care of it for you. You don't want to necessarily hire a firm that gives you the lowest bid, and you also don't necessarily want to rely on trusting free information that you may have gathered yourself.
Here's a look at why it is important to hire an expert to take care of your digital marketing for you:
Cheaper Isn't Always Better
There are a few reasons why a firm may feel the need to lower their prices. Here's a look at some possible scenarios:
They are a fairly new player in a highly competitive environment. If this is the case, you may not want to hire someone who has a lack of experience.
The firm may be found overseas where the standard of living allows them to lower prices. There are several downsides to hiring an overseas firm including potential language barrier, lack of cultural knowledge for businesses in the United States, and not understanding the nuances of how digital marketing works in the United States.
The services are of a lower quality. If the firm feels justified in lowering their prices, it could be a red flag that they are losing business because they aren't seeing results.
They might not be ethical. Another problem with an inexpensive firm is that they could be trying to guarantee results, which is a red flag that they might be ethical.
Experience Encourages Results
It stands to reason that you want to hire a digital marketing firm that has the experience you need to get the job done. We do this all the time in our personal lives. When you need a doctor to help you fight a medical condition, chances are pretty good you'll want to find the best, for example. The same is true with digital marketing. Selecting one with experience will increase the likelihood of success. These firms may carry a higher price tag, but it will be worth it because you will make up for it increased business.
You want to find a firm that not only has the experience you need, but one that will engage in ethical practices. You also want one that will give you an individualized approach and not create a template that they apply to every business. A high quality digital marketing agency understands that not every business is created equally. They will go out of their way to develop a strategy that will work for everyone. This is the firm that you ideally want to work with, otherwise your results may not be as good s they could be.
Categorized in: Digital Marketing
LIKE AND SHARE THIS ARTICLE:
READ OTHER DIGITAL MARKETING RELATED ARTICLES FROM THE BRICK MARKETING BLOG: