Don't Forget to Address the Technical Aspects of SEO
Written by Nick Stamoulis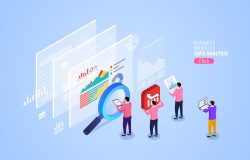 Most of us understand that SEO helps improve your presence in the search engines. Executing a solid SEO program can help increase traffic over time, and this is something that requires consistent effort in order to reap the rewards. It's true that excellent content, social media, building natural links, and optimizing the site for important keywords all play a part in SEO.
However, there is a lot more to it than that! Technical SEO is one of those things that is often neglected, and it shouldn't be. Here's more information about why it's important not to forget the technical aspects of your SEO program:
Google Holds These Technical Elements in High Regard
There is no denying that Google has certain ranking factors in place when assessing how well a website will do in the search engines. Although their specific list of ranking factors isn't quite public knowledge, we do know enough about what they expect in order to determine what will make an impact.
Mobile-Friendliness – Back in 2016, Google announced it's Mobile First Indexing. This essentially means that Google decided that a mobile version of the site has a direct impact on search engine rankings. Assessing the mobile site should be addressed while creating an SEO program.
Site speed. Having a slow website is not optimal because it annoys users. When the site loads too slowly, people will leave the site and find another, faster site to visit. It is well understood that site speed is also a ranking factor. We like to see speeds of 5 seconds or less and even 5 seconds is on the high side nowadays. The faster the better!
Broken links. Do you have a lot of broken links on your website? If so, this could hurt your SEO. There are two ways to fix this. You might want to create a Global 301 Redirect which will act as a catchall for broken links. You also might want to redirect broken links to specific pages on the website (pages that relate to the broken link). Employing both of these strategies will help minimize broken links and therefore make Google happy.
Sitemap. Does your website have a sitemap? If not, it should! Once you have a sitemap, you can submit it to Google. This is essentially a map that lets Google know how your site should be crawled. Will Google crawl your site anyway? Probably, but the sitemap can speed this process up considerably.
There's a lot that goes into executing an effective SEO program. These technical elements should always be monitored and addressed because they do make a huge impact on organic results.
When first executing an SEO plan, we always start by assessing the technical elements and we always make recommendations as to how to improve it. However, the work doesn't stop there. We always monitor these elements because we know how important it is. When problems occur, such as a site that has gotten noticeably slower, it helps to address and fix the issues before they become a problem.
Categorized in: SEO
LIKE AND SHARE THIS ARTICLE:
READ OTHER DIGITAL MARKETING RELATED ARTICLES FROM THE BRICK MARKETING BLOG: