Focus Your Efforts on High-Yield Activities
Written by Nick Stamoulis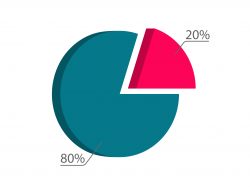 When it comes to digital marketing, every task may seem important and deserving of your attention. However, that is simply not the case. Too often, we see people getting bogged down in tiny details that really don't matter much for the big picture. According to the Pareto Principal, 80% of your results will come about from 20% of your efforts. This principle has many applications, and marketing is one of them.
Are you spending a lot of time on your digital marketing, only to realize that your results aren't what you thought? Chances are pretty good that you spend most of your efforts on activities that won't have a noticeable impact on your results.
Determine What Gives You the Best Results
Before you can really learn how where you need to focus your time, you need to look at all aspects of your digital marketing to determine how well each piece is performing. If your business generates a lot of traffic and leads from your organic search results, you should make every effort to continue growing your SEO results.
If you barely get any traffic from your social media, you should stick with doing the bare minimum. You should never stop any of your digital marketing elements completely, though. This is because they all work together. However, you shouldn't spend more time on social media than on your SEO program, this wouldn't be a good use of your time. You will be surprised how common it is for business to spend a lot of effort on activities that don't yield high results.
Don't Let Small Mistakes Bog You Down
Another scenario that we often encounter is that we have seen clients get bogged down and fixated on small errors that don't matter much over the long term. A classic example of this is when finding a typo on a blog post or social media post. Yes, typos are bad for your brand. However, it is all too easy for them to happen, and it is also very simple and easy to fix them. It takes minutes, if not seconds, to overcome these types of errors.
Let's imagine that we are dealing with the typo example from above. You get a lot traffic from your organic search results, but you don't get much traffic from your social media. In fact, your social media engagement might be pretty low, no matter how effort you spend on it. Let's imagine that the typo occurred on a social media post. Fix it, and move on. No harm done. After that, take an extra few seconds before posting each new post to make sure there are no further typos.
Would it have been slightly worse to find a typo or two in a very highly trafficked blog post? Yes, definitely, but it still isn't a big deal because they are so easy to fix. The moral of the story is, worrying about small items like this is definitely something that has a low yield. Yes, you should fix them. However, make sure that dealing with the issue doesn't take more than a few minutes. Don't get bogged down by these mistakes, just keep moving forward.
Your goal for digital marketing should be to spend most of your efforts on the activities that produce the greatest results.
Categorized in: Digital Marketing
LIKE AND SHARE THIS ARTICLE:
READ OTHER DIGITAL MARKETING RELATED ARTICLES FROM THE BRICK MARKETING BLOG: