Be An Educated Consumer When Hiring a Digital Marketing Agency
Written by Nick Stamoulis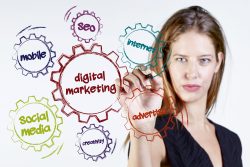 You know you need to hire a digital marketing agency. The problem is, there are so many out there it can be difficult to find one. The truth is, not every digital marketing agency will be a good fit for your business, and finding the right one is about more than just looking at a list of clients or having a few sales conversions. You need to be an educated consumer before you consider which to hire.
If you want to hire the right agency, you should really do your own research. Here are some tips that will help you find the right digital marketing agency for your needs:
Discover their Specialties
Different digital marketing agencies specialize in different things. For example, some are more known for their content marketing. Others might specialize in social media. Still, others may have a proven process that they tweak depending on the business, but they know that the process works every time. Which approach would be a good fit for you? You need to think about what you really need, and then determine which approach is right for you. If you really value great content, for example, you obviously won't want to hire a digital marketing agency that specializes in social media.
Know Your Budget
It is also important to think of your budget when selecting a digital marketing agency. Keep in mind that a higher price point does not necessarily mean better service. Companies charge the highest price that they can get away with because they want to maximize profit. They will naturally lower the price if there are no buyers. Ideally, you will want to prioritize finding the right fit for your company, and then you can determine if they are also within your budget. This is all part of being educated, though, because if you don't know your budget, you might have a tough time narrowing things down.
Get to Know Happy Customers
Another way that you can become an educated consumer is to ask people for referrals of great digital marketing agencies that you can work with, and to also get to know its happy customers. This is a great way to narrow things down because one digital marketing agency can look and feel very similar to another. How can you really know if you have found a good fit?
Besides asking for referrals, you might also be able to gather information online. Be sure to check any testimonials you find, and you also may be able to speak with happy clients to help you gauge if you are a good fit.  When you do talk with someone, ask about their business and how the agency helped.. Did the marketers demonstrate expertise? Were they easy to communicate with? Did they deliver results on time? Business owners can go with a company with glowing reviews.
As you can see, the more you know about what is out there, the easier it will be to find a good agency. It really helps to be an educated consumer because it will help you find a great digital marketing agency that will get you the results you want.
Categorized in: Digital Marketing
LIKE AND SHARE THIS ARTICLE:
READ OTHER DIGITAL MARKETING RELATED ARTICLES FROM THE BRICK MARKETING BLOG: