Don't Hire Us Here's Why
Written by Nick Stamoulis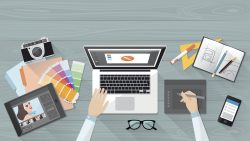 You're excited about your small business and you believe in it. You know that there is real potential for your business, and you are excited to get the word out. You might even think you need outside help to get things on track. Well, wanting to find help is a great thing, especially if you don't have enough hours in the day to get done everything that you need.
However, no matter how badly you need the help, you might not want to hire a digital marketing agency until it is the right time. Here's more information about how you can tell when the right time to hire an agency is:
You Don't Need Help with Your Marketing Yet
When you first start your business, your marketing strategy will look different than it does a few years later. In the beginning you will be focusing on the following:
Website. Developing a website that will help get the word out about who you are and what you do.
Social Media. Creating your business social media profiles and entering into the beginning stages of building your audience.
Traction. You will also be spending a lot of time getting traction for your business through other types of marketing like word-of-mouth, sending emails, and more.
As you can see, you might spend a considerable amount of time in the beginning setting up profiles, building your website, and establishing your place in your audience. When you hire a digital marketing agency, it is a lot better if these elements are in place before you get started working with a company. The reason for this is that they will build
Your Business Could Be Too New
One of the reasons why you might not want to hire us, at least not yet, is because your business could be too new. If you hire a digital marketing agency too soon, you might be wasting valuable resources. When your business is new, you have other things on your plate, such as organizing the beginning stages of your marketing, getting your website up and running and making sure you have a product or service that people want or need.
There could be a time when it does make sense to hire us to help you with your digital marketing. However, if you hire us too soon, you will honestly be wasting your money. You need to get your business up and running first. When you first start your business, you will want to use your resources to hone and refine your business and its operations. In other words, if you don't want, you could completely waste your money. Your results will likely be better if you want.
We help our clients, but only when the time is right. We are best utilized when you are a few years into your business, and not in the beginning stages. The reason for this is that we will be building on the platform you already created, and we can help take your business to the next level.
Categorized in: Digital Marketing
LIKE AND SHARE THIS ARTICLE:
READ OTHER DIGITAL MARKETING RELATED ARTICLES FROM THE BRICK MARKETING BLOG: