Digital Marketing Takes Time
Written by Nick Stamoulis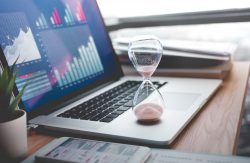 When it comes to digital marketing, you need to make sure that you give it enough time to work. It isn't a simple matter of executing the digital marketing program and the making changes as needed. You can't make changes too soon, otherwise you could harm your progress. You also don't want to make them too late, or else it could stall your progress. There is a sweet spot with digital marketing.
What you want to avoid is making changes in a reactive way. When you see something is a bit off in your analytics, it might be just a one-time thing, and making changes won't really make a difference. What happens if you make changes in a reactive way? Well, this won't do you much good.
It Takes Time to Build Your Brand
The reality is that it takes time to build your brand. Just because you might have a large budget for your digital marketing, it doesn't mean your strategy will work the way you expect.  Your audience's frequency of seeing your product will help them identify your business by your logo. Focus on uploading high-quality content to your page consistently, and you will see your brand grow seamlessly. The longer your brand is in the market, the more it creates awareness among potential clients. Slowly and steadily, with patience, consistency, and good quality content to the right channels, your brand will get there, and so will your sales.
It Takes Time to Build Trust
Building trust is an important pice of the puzzle for business success, and it takes time to do so.  Customers will only buy from people and businesses they trust. Focusing on building trust in digital marketing means choosing quality over quantity. It would help to take time to build a compelling and helpful advert that will valuably inform your customers than just putting up some filler advert just for the sake of it. You can work on building trust in your brand by letting your customers see your content as valuable and informative rather than just pushing for a sale. High-value content is appealing in search engines and will do well in search engine optimization. It is also important to ensure that you display the same good conduct you had in your advert while physically dealing with your customers.
It Takes Time for a Website to Perform Well Organically
Research has proven that it takes about six months of sustained effort to rank high in search engine optimization. Sustained effort refers to taking time to publish high-quality, relevant content on your website. Like content marketing, it all takes time and consistent effort to do well in digital marketing. SEO also requires one to take time to develop their website for success. It includes having a sound back-end system and having suitable linkage systems, all geared towards success.
Digital marketing is an excellent way to advertise your business. Patience and persistence in developing your brand and market strategy will finally get your business where you see it. Enjoy the journey towards building your brand slowly and steadily. In the end, there will be reasons to trust the process.
Categorized in: Digital Marketing
LIKE AND SHARE THIS ARTICLE:
READ OTHER DIGITAL MARKETING RELATED ARTICLES FROM THE BRICK MARKETING BLOG: