Creating a Digital Marketing Strategy for Your Audience
Written by Nick Stamoulis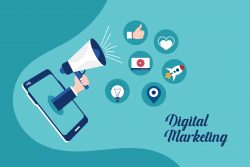 It's true that your business needs a digital marketing strategy. A good one will help improve your business, but a bad one can also hold things back. At the core of every good strategy, though, is your audience. If you fail to create a digital marketing plan that will attract your audience, endear them to your brand, and eventually turn them into paying customers.
In other words, you need to create the strategy with your audience in mind, and this takes some special considerations. Not only that, but some businesses forget to do this, and if you take the extra step to align your strategy with your audience, it will give you an edge over your competitors.
Define Your Audience
The first step to creating digital marketing strategy for your audience is to make sure that you actually define your audience. Without a clear idea of who you are trying to attract, you won't effectively create a digital marketing strategy for them. In other words, your audience is the whole reason why you are in business in the first place.
How do you define your audience? Well, chances are pretty good you already have this information nailed down, especially if you've been in business for a while. Without a clear idea of your audience, your very business wouldn't exist. Even if you only have a vague notion of your ideal customer, you should take the time turn this into demographics data.
Perform a Digital Marketing Audit
After you define your audience, you should perform a digital marketing audit to assess where things stand. Are you doing all that you need to do with your digital marketing in order to attract your audience? Here are some things you might want to do as part of your audit:
Current strategy. Determine what your current digital  marketing strategy is, and determine how effective it has been.
Assess metrics. In order to assess your current strategy, you need to look at relevant metrics, such as traffic, audience engagement, conversion rates, and more.
Determine Changes. Can you identify places where your strategy needs to change?
Create the Digital Marketing Strategy
Once you know your audience and perform an audit on your existing digital marketing, it is time to put it all together and create a new strategy. In particular, you need to make sure that your strategy aligns with your current goals, and in order to do that, you should think about your audience's role in your efforts. If you don't know your audience well, you won't put together a plan that will work to attract them. Here's a look at some of the strategies that can be part of your digital marketing:
Digital advertising. Advertising online can work well for any business, you just need to define your budget and know what mix to use. Your choices include advertising directly on other websites, pay per click, and social media advertising.
SEO. Every good digital marketing plan includes search engine optimization. You just need to figure out how to align it with your audience and goals.
Social media. Your digital marketing definitely needs to include social media. Just be sure to create a program aligned with your audience.
As you can see, your audience should be put first when putting your digital marketing plan together. It's a missing piece that many businesses forget, but will give you an edge over your competition.
Categorized in: Digital Marketing
LIKE AND SHARE THIS ARTICLE:
READ OTHER DIGITAL MARKETING RELATED ARTICLES FROM THE BRICK MARKETING BLOG: