Digital Marketing is Important for Branding
Written by Nick Stamoulis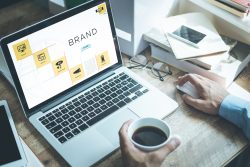 It's true that branding your business is a multi-faceted process, with branding activities happening both online and off. Business activities that involve branding include handing out a brochure with your company logo, designing your office, or using digital strategies to market your business. In fact, digital marketing can actually help enhance your branding. Here's a look at some of the ways digital marketing can be used to brand your business:
Helps Build Brand Trust
Digital marketing can help build brand trust online. When someone visits your website or social media, if they like your content, they will start to develop a fondness for your brand. As a result of that, they will keep returning to your website and may eventually use your services or buy your products. It is your online presence that gets them started.
Digital marketing can help you build a positive reputation and consumer trust. Through social media campaigns, for example, you can give your customers a glimpse into the way your business works while building a dialogue with them at the same time. This is another important benefit of digital marketing.
Reach Your Target Audience
Digital marketing helps you better reach your target audience, and in doing so, it can also increase your branding. Digital platforms such as your company website, social media, online advertising such as pay per click, and more, are all tools that you can use to help reach the right people. These are all activities that can help you build your brand online.
For example, if you wanted to expand into a new market or promote your brand online, you can do so with a variety of methods, such as writing new content or posting on social media. The ease of digital marketing allows you multiple ways to constantly connect with your audience. This is an essential component of building your brand.
Promote Customer Engagement
One great way to build a strong brand and engage with customers is through content marketing. In other words, branding can help promote customer engagement, and you will use digital marketing tactics to get you there.  Content marketing usually takes place online and involves companies creating and sharing valuable information that caters to their target audience. For example, if you are selling a software program, you might want to share helpful content on how to use the software or the benefits of using the software. Content like this will help you connect with your customers and will increase engagement.
It's true that if you're looking for the best way to market, social media is just one piece of the puzzle. Digital marketing has become an integral part of any company's brand strategy because it represents a new form of communication with customers and prospects in today's world. Social media is only one avenue through which your business can extend its reach; there are many more ways that digital marketing can be used to create connections between brands and their target audiences.
Categorized in: Digital Marketing
LIKE AND SHARE THIS ARTICLE:
READ OTHER DIGITAL MARKETING RELATED ARTICLES FROM THE BRICK MARKETING BLOG: