Definition of a Tracking URL
Written by Nick Stamoulis
A tracking URL is a special URL (Uniform Resource Locator) used for the purpose of tracking certain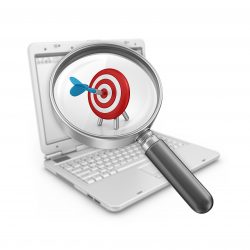 element when a link is clicked on. Tracking URLs are used in paid advertising and to trace where visitors to your website are coming from. Tracking URLs share important metrics such as the search engine your visitors came from, the keywords the users searched for, and which of your call-to-actions got a response.
How do tracking URLs work? Tracking URLs are embedded within your normal web link. Tracking codes in the tracking URL enable a website owner to specify the source of their traffic. These unique tracking URLs will be shared via ads, social media accounts, blog posts, emails, newsletters, and on forums, to name a few. When a user clicks on a tracking link, they are redirected to the destination page that you assigned to it. Typically, this will be a page within your website. As the user is redirected to your website, data about where the user is coming from is being collected.
Why should a website owner use a tracking URL? Tracking your URL can help you to manage your online campaigns. If you have multiple campaigns running, this is especially helpful to know which are working and which are not. You might have a Google Adword campaign, a Facebook ad campaign, an email campaign, etc. A tracking URL will provide you the information to know where your traffic is coming from and allow you to rank them. This information can also help you to budge your time and money into what works. Tracking URLs are more accurate (100% accurate in fact) than other analytic tools such as ones that monitor website traffic through cookies because some visitors devices may block cookies.
You can also use a tracking URL to track which of your content is receiving the most traffic. For example, your landing pages probably contains a variety of content. With tracking URLs, you can determine which ones draw the most visitors. This can help you to figure out which copy, images, and heading are more popular. This can be helpful if you are doing A/B testing.
In what other ways can a website creator benefit from tracking URLs? You can get to know your visitors better by using tracking URLs. You will be able to learn where in the world your visitors are, which can help you target these areas more, especially if many are located in the same region.
When you know more about who your visitors are, you can use tracking to see what else they are interested in. This will allow you to personalize a URL and send it to them via email. When they click on the link, you will able to track their movements once they are on your website. One of the greatest benefits of tracking URLs is that you will get a much clearer idea of what your visitors and potential customers are looking for.
Tracking URLs are beneficial to both marketers and website creators.
Tracking URL Definition Sources:
Categorized in: Digital Marketing Glossary
LIKE AND SHARE THIS ARTICLE:
READ OTHER DIGITAL MARKETING RELATED ARTICLES FROM THE BRICK MARKETING BLOG: