Definition of Search Engine Optimization (SEO)
Written by Nick Stamoulis
Search engine optimization, or SEO, is the process of improving your website in ways that increases its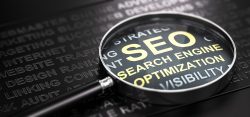 visibility when people do searches online for services or products related to what you offer. When your website has good visibility in search results, the more likely you are to have more visitors and potential customers. Search engine optimization focuses on content strategy, technical problem solving, and understand personas.
How does search engine optimization work? For your website to show up in search engine results, it needs to be visible. Search engines work through crawling, indexing, and ranking.
• Search engine crawling is the act of search engine robots searching the internet for content, looking at the code and content for each URL. This content can include text, videos, or images.
• Search engine indexing is the act of organizing and storing content found during crawling. When a page becomes part of the index, it has the ability to show up in searches.
• Search engine ranking is when content is searched for and the sources found are listed from most relevant to least relevant.
Why is search engine optimization important? Searches are conducted by users who are looking for information, a service, or a product. The amount of results that come up for any search are extremely high. This is why ranking is important. The top results, the ones on the first page, are ones most likely to be accessed. To have your page rank on the first page, knowing about search engine optimization and improving your website's rank is going to make a world of difference to your business. In addition to good content, search engine optimization can help
What if your website isn't showing up in search results? This could be for a few reasons. If your website is brand new, the pages haven't yet had time to rank. Ranking does require patience. Your website's navigation might make it difficult to be crawled or your site might contain code that is blocking search engines.
How can you ensure success in search engine optimization? Search engine optimization requires knowing what users are looking for. There are a number of other factors that can help you succeed. Some of these factors for SEO success include:
• Off-page: Off-page are the things that are not on your website. These are actions that will help you get your brand and website noticed. For example, link building, social media marketing, and pay-per-click marketing.
• On-page: On-page refers to your content. This is what visitors will see when they come to your website. Your text, videos, images, and audio will all play a role in your search engine optimization success. This also includes the parts of your website that are only visible to search engines.
• Technical: Technical refers to things that affect the visibility and performance of your website. Technical also includes indexing, crawling, page speed, and URL structure just to name a few.
Search engine optimization is the process of improving the quality and quantity of website traffic.
Search Engine Optimization (SEO) Definition Sources:
Categorized in: Digital Marketing Glossary
LIKE AND SHARE THIS ARTICLE:
READ OTHER DIGITAL MARKETING RELATED ARTICLES FROM THE BRICK MARKETING BLOG: