Definition of Pay Per Click Advertising
Written by Nick Stamoulis
Pay Per Click Advertising, also known as PPC, is an online advertising model where advertisers place ads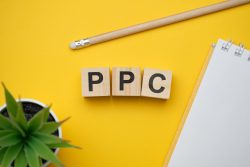 on advertisement platforms. Pay per click is used to drive traffic to websites. Advertisers pay a publisher when an ad is clicked on that leads to the website. The end goal of ads is for visitors to the website to make a purchase of the product or service being offered.
Pay per click platforms include, but are not limited to the following:
• Google AdWords: it should be noted that Google AdWords is the "founding father" of all pay per click platforms. Most other platforms model theirs after it.
• Facebook Ads
• Yahoo! Ads
• LinkedIn Ads
Search engines are a popular platform for pay per click ads because they allow advertisers to target users specifically by what they are looking for. They make sure their ads are relevant and appealing.
Websites themselves can also host pay per click ads. These are called sponsored links or sponsored ads. The website will display an ad when a keyword query matches an advertiser's keyword list. These ads usually appear above, beneath, or beside organic search results or on a content site.
Are there any disadvantages to pay per click advertisements? Disadvantages to the pay per click model include the time needed to invest into making them successful. For pay per click advertisements, you can't just set them up and wait. You will want to optimize and improve when needed to garner the best results. If you don't do this, then you might end up wasting your money. One goal is to get a return on your investment into pay per click ads. And finally, just getting users to your website isn't the end goal. Your end goal, and your entire reason for using pay per click ads, is to improve conversion rates. Getting users to your site is great, but now they need to buy something and it's up to you to convince them.
What are the advantages of pay per click advertisements? Even if you have no experience using pay per click advertising, there are many resources online (many for free) that can help educate you and help you develop the skills needed. Pay per click ads are cost effective. You pay only when visitors come to your website. Pay per click also makes it easy to budget because you can decide beforehand how much you are willing to spend on pay per click advertisements. Another benefit is that PPC ads are measurable. You will be able to calculate how many users who end up at your website end up making a purchase. This can help you determine if you need to make adjustments to your keywords or target audience.
What makes a good pay per click ad? A good PPC ad will be targeted to the correct audience. Don't try to appeal to everyone. Include relevant keywords and have a strong call to action. Space is limited so be specific and descriptive.
Definition of Pay Per Click Advertising Sources:
Categorized in: Digital Marketing Glossary
LIKE AND SHARE THIS ARTICLE:
READ OTHER DIGITAL MARKETING RELATED ARTICLES FROM THE BRICK MARKETING BLOG: