Definition of a Click Through Rate (CTR)
Written by Nick Stamoulis
A click through rate (CTR) is the measurement of how many times a link involved in a paid inclusion is clicked on when it appears in search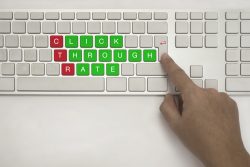 engine results. It is calculated by the number of clicks an ad receives divided by the number of times the ad is shown. Each ad, keyword, and listing has there own click through rate. Each click through rate will be listed in your account.
A click through rate can be used to determine which listings, ads, and keywords are successful and which aren't. The more these keywords, ads, and listings relate to each other and your business, the more likely users are to click through to your website. In general, the higher the click through rate, the more effective you can assume your marketing campaign has been at driving people to your website.
How can you improve your click through rate? Your first goal should be to make your target audience your top priority. This is the audience you want to focus on with your ads and listing. Attempting to appeal to all audiences can hinder your click through rate because different audiences are all looking for different things. You want your target audience to look at your ads, offers, and listings and think "that's for me!" You can have the best copy, the brightest and boldest ads, and a can't-miss offer, but if it's not appealing to your target audience, you click through rate will remain low.
Another tip for improving your click through rate is to get specific. Now that you know your target audience and are focusing on them, you can get specific with your ads. Imagine that your target audience is people who love being active. You can create a generic ad that targets anyone who walks, but if you get even more specific and target people who are looking for running shoes, and in certain sizes and colors, you are going to appeal to your target market. People who know exactly what they want are going to use long-tail keywords in their searches. Instead of typing in "running shoes," they will type in "running shoes size 8 blue teal."
What affects a click through rate? As mentioned, your keywords play a large part in how good your click through rate is. You ad rank will also play an important role in determining your click through rate. The lower your ad ranks, the less often it will get viewed. Click through rates for banners ads are not as high as they used to be. Modern online advertising involves search engines allowing advertisers to display ads within search results. These ads are typically in text form, which can include links and other contact information. This type of advertising is getting higher click through rates.
A high click through rate is going to tell you that your ads and listings are relevant and helpful to users. This should be your goal. When you know your target audience and what they are looking for, you will be able to get very specific with keywords in your ads and listings.
Click Through Rate (CTR) Definition Sources:
Categorized in: Digital Marketing Glossary
LIKE AND SHARE THIS ARTICLE:
READ OTHER DIGITAL MARKETING RELATED ARTICLES FROM THE BRICK MARKETING BLOG: