Definition of Cost Per Lead (CPL)
Written by Nick Stamoulis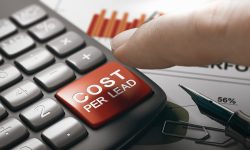 Cost per lead (CPL) is an online advertising pricing model. The advertiser pays a set price for each customer that fills out a lead or sign-up form. Advertisers pay for the basic contact information, most often an email address, of a consumer who may be interested in their service or product.
Cost per lead campaigns are used by brand marketers and direct response marketers who are looking to build newsletter list, reward program, or customer acquisition program. This is a way for companies to connect with consumers who are passionate about specific brands. Customers voluntarily fill out sign-up forms, so they are usually more valuable to a company. But if someone does not successfully fill out a sign-up form, the advertiser is not charged.
A benefit of a cost per lead campaign is that the advertiser remains in control of their brand. They can select relevant and trusted publishers to run their offers. Since cost per lead campaigns only collect basic information, they are high volume and light-weight.
What are the benefits of cost per lead campaigns? Cost per lead marketing can help you to set a marketing budget, set a goal for your campaigns, and lead generation efforts. You will also be able to produce an effective campaign that will attract and engage high-quality leads.
To sum up the advantages of cost per lead campaigns:
Better brand awareness
High-quality traffic
Scalable results
Budget savings
Longevity of advertisement
What is a cost per lead calculator and what are the benefits? A cost per lead calculator is used to figure out how to lower the cost of your leads by factoring in things that may affect your business's chances of earning a profit. Using a cost per lead can help you maximize your budget, helping you to stretch your dollar without giving up quality of advertising. You will fill in different fields including a keyword budget, number of leads, or cost per lead. Using a cost per lead calculator can help you set goals like knowing how many leads you would like to obtain. Overall, a cost per lead calculator can help you to create the best ad campaign possible. You can figure out which elements you can afford that will attract more and better leads. For example, you may want to include ad extensions that incorporate things such as additional links, information, and contact information.
With cost per lead, you only pay for results. It is a less risky type of marketing model, with good results, than some other types. Cost per lead is a performance-based type of advertising that is considered a middle ground between online models such as cost per impression (CPM) where the advertiser is not punished or rewarded based on traffic and cost per sale where the publisher is responsible for how traffic converts. With the cost per lead model, both the advertiser and the publisher share the responsibility of the performance.
Cost Per Lead (CPL) Definition Sources:
Categorized in: Digital Marketing Glossary
LIKE AND SHARE THIS ARTICLE:
READ OTHER DIGITAL MARKETING RELATED ARTICLES FROM THE BRICK MARKETING BLOG: