Definition of Content Marketing
Written by Nick Stamoulis
Content marketing is a form of marketing that is focused on creating, publishing, and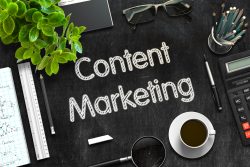 distributing content for a targeted audience. This content is relevant and consistent for the audience in order to drive profitable customer action.
There are different types of content marketing including:
• Webpages: Content marketing on webpages is typically offered for free and provide tools and resources. This type of content marketing attracts and retains customers by offering valuable content and a user-friendly website.
• Infographics: Infographics are long, vertical graphics that contain graphs, charts, statistics, and other relevant information. They are visually appealing and can be posted on websites as well as shared around social media. Hiring someone to design an infographic can cost around $1,000 without the copy writing, research, and design.
• Videos: Videos can be a wonderful content marketing tool that doesn't have to cost a lot if you have decent equipment. Videos can be a valuable addition to your website.
• Books: Books also make a good marketing tool. You can go through a traditional publisher or self-publish. You can even choose to write shorter e-books, which appeal to busy people.
Other content marketing ideas include: podcasts, blogs, white papers, and apps, just to name a few others. The great thing about content marketing is how many options there are. Whatever your strength is, there is an option for you. Keeping your audience engaged with different types of content will keep things from getting stale.
What makes content marketing so important? Content marketing is a good way to open up a dialogue with your audience. Consistent content marketing keeps the conversation fresh and allows you to get to know your audience better and them to get to know you. This makes the relationship between you and your customers seem less transactional and more about building an open and trusting relationship.
Your content marketing strategy will also reflect in your search engine optimization (SEO) results. With consistent high-quality content, your website can continue to rank high in searches and grow your audience. As long as you are regularly producing useful content for your audience, they will keep coming back. Content marketing is helpful in increasing your keywords with each new piece of content you create. This can help to strengthen you long-tail keyword results.
Content marketing will help to create awareness for your brand. As mentioned, ranking higher in searches will get more eyes on your website. This is good news if you're trying to build a brand. individuals may encounter your brand in the SERPs, word-of-mouth from a friend, or a backlink from another website or blog. Content marketing also allows you to share your brand's personality. A brand is more than colors and a logo. Successful brands have values and are able to express to the world who they are, how they are different, and their promises to their customers.
Content marketing will increase your organic search traffic, expand your brand awareness, and increase your social media engagement.
Content Marketing Definition Sources:

Source 1
Categorized in: Digital Marketing Glossary
LIKE AND SHARE THIS ARTICLE:
READ OTHER DIGITAL MARKETING RELATED ARTICLES FROM THE BRICK MARKETING BLOG: