Should You Keep Dates On Evergreen Content?
Written by Nick Stamoulis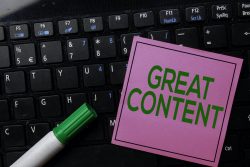 When it comes to writing content for digital marketing and SEO, there is a lot that goes into it. Not only do you need to have the right content mix for your audience, but there are also other, smaller details that can make a significant difference. Some of these details may not need to matter much on the surface, but they really do play a role.
One of these is the issue of whether or not evergreen content should include dates. Here's more information about whether or not this is a good idea:
Evergreen Content Is Always Relevant
Evergreen content is a special type of content that never loses its relevance. These are the topics in your niche that will never become outdated. For example, if your company has a proprietary software program that they sell to educational institutions, you'll want your content to somehow relate to that. Evergreen content related to this software program could include information on how to use the software, benefits of using the software, and helpful information about how to implement the software.
In other words, evergreen content will always be relevant no matter what is going on the industry or even if the software is updated. In light of this, it doesn't makes sense for content like this to include dates. Including dates is a psychological thing for readers. If a lot of time has elapsed between the date and the information presented, it could result in a high bounce rate even if the information is still valid. The problem is solved if there was no date included in the first place.
How to Handle Evergreen Content on Blogs
It's pretty common for blog posts to include dates, but is it worth it? Some content on blogs is actually time sensitive, but some isn't. Some includes topics that are a lot more evergreen. When this approach is taken, it can make for a nice content mix. What do you do in this case? You still might want to remove the dates from all the posts. The evergreen content definitely needs the dates removed for it to have the most impact.
What if you have some content that includes dated, time sensitive material? Should you still have the dates removed? It doesn't makes sense to remove the dates from some posts and not others. Either all the dates are removed, or none are. if the content contains dated information, you can include the dated information within the content.
Whether or not you should remove dates, of course, depends on the nature of the business and of the content itself. One of the tangible benefits is that when someone reads your articles, they will never have the psychological idea that the content is dated. For evergreen content, this could be a bad thing because technically speaking, evergreen content never goes out of style. It will also be relevant but if there is a date it could make someone believe otherwise.
Categorized in: Content Marketing
LIKE AND SHARE THIS ARTICLE:
READ OTHER DIGITAL MARKETING RELATED ARTICLES FROM THE BRICK MARKETING BLOG: