Data Can Help Your Content Marketing
Written by Nick Stamoulis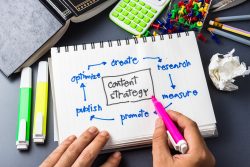 Data analysis isn't always thought of as being helpful for content marketing, but when used correctly, it can really enhance your strategy. Granted, when it comes to data, you should strive to achieve a balance between assessing what the numbers are telling you, and trusting your own judgment and intuition. Data is great, but you should never lose that human element.
However, data could provide you with proof of what's functioning and what's not with your existing strategy, and from there, you can make adjustments that will help make your approach even better. Here is some advice that will help you uses data to assess your content marketing and make improvements when needed:
Assess the Data
Use the data in your analytics to determine what needs your content addresses most. Analyze your website traffic and the keywords that people use to get there. Pay attention to how people are using your website. Are they coming from social media? Search engines? What are they doing on your website once they get there? Your site's analytics will give you the answers to these questions, and from there, you will start to determine how effective your existing strategy is. You may even start to understand what you need to do to improve on your results. You'll want to analyze information such as traffic of individual pages, social media engagement, organic traffic, and more in order to determine if your content is doing its job or not. If not, data could help you make important changes that will help your strategy over the long term.
Learn How to Stand Out
Being creative can be a challenge, but creativity is a key to making content that people want to read. Use data to assess your content in the context of the landscape. First, you will want to get a feel for what topics are being covered in your industry as a whole. You should also get to know what some of the current trends are, as well as develop an understanding of what your audience expects. Strengthen your content strategy by paying attention to what's working, what's not, and then changing where it needs to be. The truth is that data can help lead you to some important conclusions that will help your data stand apart from the crowd. It can also help you enhance your creativity.
Increase Reader Engagement
Data can help you gain insights that will help you increase reader engagement through your content. Using data, you can identify the words, phrases and topics most successful at attracting reader attention. Then use them in your content strategy to increase reader engagement. You'll also want to pay attention to site behavior, such as time spent on your website, clicks and shares. The insights gained from assessing your analytics will help you create future content that will engage your audience even better than you already do.
Data can definitely help increase your content marketing, but it isn't everything. You should assess data to improve your content marketing, but always use the human element to interpret that data.
Categorized in: Content Marketing
LIKE AND SHARE THIS ARTICLE:
READ OTHER DIGITAL MARKETING RELATED ARTICLES FROM THE BRICK MARKETING BLOG: