Control the Conversation with Content Marketing
Written by Nick Stamoulis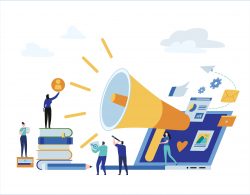 Content marketing is a important part of every business's digital marketing efforts. In many ways, it forms the backbone of your digital marketing because it gives your audience online content to read, enjoy, and share. In some instances, your content is even the very thing that might turn them into a customer.
However, content is about more than just providing your audience with the information they will need to enjoy your brand. Content is also an opportunity for businesses to control the conversation and have a say in their brand's online reputation.
Control Your Brand's Narrative Through Content
As mentioned above, content marketing can help set and control the narrative for your brand online. However, there is an fine line between maintaining the description and ignoring the 'talk' of your customers. In every business, customers want to feel involved in a brand that they like; making them a central part of a brand's narrative is, therefore, very crucial. Customers drive the life of a brand and must be given the place to build the same brand.
While content marketing is multifaceted and there are many different ways it can be executed,, there are bases that each brand needs to cover and pay close attention to set their desired narrative and control it. Top of that list is content marketing on social media. Statistically, social media is the largest platform for the content market, often regardless of the specific social media site. In an era where every home has more than one smartphone with a registered active social media account, brands need to master the art of conversational content marketing.
Role of Content Optimization in Controlling the Conversation
It is also important to understand that the way you optimize content can play a role in controlling the conversation. When done right, optimization is a tool that can help you connect with the right audience. It's all about writing the content in a way that attracts the people it needs to attract in order for your business to be successful.
This is a core concept when it comes to controlling the conversation. If your content strategy is developed the right way, you will be well poised to attract your audience. When it is written the way it needs to be written to attract your audience, you will control who has a chance to experience your brand. That way, you will resonate with the people with whom you want to business.
Establishing Your Target Audience with Content Marketing
A brand has to identify its target audience. This is important because it dictates the tone and form of the narrative the brand wants to build and distribute. Using target-appropriate content ensures that the intended customer will see and pay attention to the content. It is equally important to focus on sites where the target customers are active. For instance, if a brand deals in clothes or lifestyle products, it will be more productive to build their narrative on Instagram than on Twitter.
Using content to control marketing conversations is entirely a product of strategy and precision. By focusing simply on the intended group, listening actively for feedback, and doing appropriate implementation and changes based on the input, a brand can control what their customers need to hear and understand from their content.
Content marketing is an excellent way of building and maintaining customer trust. Customers will often want to learn about a brand online before spending their money on its products or services. Ensuring content is centered around common customer questions and concerns helps ensure that customers walk and listen to the brand's narrative. It builds a foundation for conversational marketing.
Categorized in: Content Marketing
LIKE AND SHARE THIS ARTICLE:
READ OTHER DIGITAL MARKETING RELATED ARTICLES FROM THE BRICK MARKETING BLOG: