Content Doesn't Need to Be Creative to Serve Your Audience
Written by Nick Stamoulis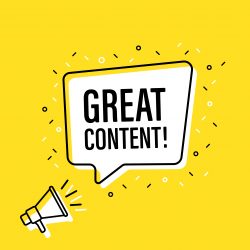 When creating content for your business's website, it is only natural to feel as if you need to get people to see it. One of the impulses you might have is to wrack your brain for ways to get people's attention. You may even feel as if you need to be creative so that you can maybe have some content go viral, or set yourself apart from your competition.
Worrying about being overly creative, however, may not be the best approach. In fact, fighting to get attention through creativity can have the opposite affect – it could turn your audience off. Here's more information about this:
Viral Content Doesn't Attract the Right People
When something goes viral, it means that it experiences a surge of traffic quickly. Usually, this is an indicator that your content is popular, and that people are experiencing it and enjoying it. However, despite the traffic amounts, there is no guarantee that your content has reached the right people. In other words, these numbers might actually be useless. You want to make sure that the people who see your content could actually benefit from it.
For example, if your company creates a software program for graphic designers and you create a piece of content that is unique and interesting, it may end up passing from one person to the other. A graphic designer may have seen it, enjoyed it, and then sent it to some of her friends, none of whom are actually your target. Your traffic may have increased, but only one person in that scenario would actually become a paying customer.
Your Audience Just Wants Helpful Content
It's not necessarily true that your audience may not enjoy content that is on the more creative side. However, creativity shouldn't be the priority. Your audience really just want to see content that they will find useful. If it also happens to be creative and entertaining, then that will be an extra bonus. The goal here is to create content that will meet your audience's needs, and creativity isn't always the best approach.
How do you know if the content is helpful? Well, your audience enters your website having certain expectations. Whether they clicked onto your site from social media, found it in the search engines, or they clicked in from your newsletter, chances are pretty good that you have an idea of what you are looking for when entering the site.
An easy way for your website to meet these expectations is to make sure that you create content for every phase of the customer journey. If you do this, you will be guaranteed to have content on your website that will satisfy the people who visit. If they aren't satisfied with your content and then click off your website, it could mean that they weren't potential customers in the first place.
When it comes to creating content for your website, you don't need to worry about getting creative. Your priority is to create content that will please your audience.
Categorized in: Content Marketing
LIKE AND SHARE THIS ARTICLE:
READ OTHER DIGITAL MARKETING RELATED ARTICLES FROM THE BRICK MARKETING BLOG: