Content Marketing Tips for Small Business
Written by Nick Stamoulis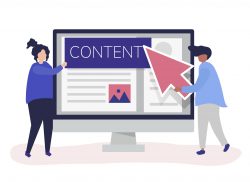 Inbound marketing tactics, specifically content marketing, is all the rage these days. Potential customers and clients don't want to feel like they are being advertised to. The companies that get their business are the ones that earn it over time by providing useful information that garners trust.
Content marketing is a less direct way to promote products or services. Instead of getting in the face of consumers when they aren't looking for something, it's about joining the conversation when they are. Businesses of all sizes and in all industries can benefit from content marketing, it's not only for the big brands.
Here are 5 content marketing tips for small business:
Just do it
It doesn't matter how big or small your business is, content marketing needs to be done in order to compete. Don't use the size of your business as an excuse for not doing it. The content that you produce is how prospects get to know you and trust you. If people are looking for information and you aren't giving them any, they'll probably just pass over you. In fact, sharing great content can actually help you compete with the "big guys". It's OK to start on a small scale and do more as time goes on and you become more comfortable with it.
Invest in it
Small businesses typically don't have a large marketing budget, but it's important to allocate some of it to content marketing efforts. Content creation and distribution should be built into the job duties of a marketing employee or it will need to be outsourced. Either way, it needs to get done and it won't get done if you aren't willing to invest in it.
Keep it organized
Within a small business people typically wear many hats and have many responsibilities. When things get busy, typically one of the first things that gets put off is content creation. It's important not to let that happen. One way to keep things on track is to maintain an editorial calendar that outlines what content needs to be created and when. Think ahead strategically. Is your business going to be launching a new product or service soon? Determine when a press release and promotional blog post should be published.
Diversify it
It's easy to feel bogged down by content marketing efforts when you are doing the same things over and over. It can get repetitive and boring. When that happens it's important to switch it up. Content expands beyond blog posts and press releases and it can be fun to experiment with new things. Get creative and host a webinar, do a podcast, upload a video, or create an infographic. Different content types can also attract a new audience.
Be consistent
Many small businesses have the best intentions when it comes to content marketing but for one reason or another it never really gets off the ground. The key to content marketing success is to distribute content on a regular basis. The content that you created even just a week ago is already buried by what the competition created yesterday.
Small businesses can definitely benefit from content marketing. These tips will help you get the most out of it.
Categorized in: Content Marketing
LIKE AND SHARE THIS ARTICLE:
READ OTHER DIGITAL MARKETING RELATED ARTICLES FROM THE BRICK MARKETING BLOG: