Content Marketing and Branding Should Work Together
Written by Nick Stamoulis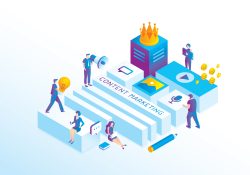 When it comes to content marketing, messaging is everything. Nothing shapes your messaging more than your brand. If you treat the two items, content marketing and branding, as separate entities, your brand won't have a cohesive look and feel. Content and branding absolutely need to work together. In fact, allowing them to work together will help you create a great strategy that aligns with your business goals. Aligning your brand with content is a key to connecting your business with the right audience.
Form Strategy Around Your Ideal Customer
Before creating any content, you should always first create the persona of your ideal customer. Have this ideal image planted firmly in mind before creating both your brand and content strategies. Without an idea of what your market is, you will have no idea how to create content that attracts these people. This is exactly why content and branding need to work together, since branding is all about creating a visual identity that will also attract your ideal customer. If both your visual identity and your content are aligned, you will stand a better chance of attracting the right customer.
Social Media Also Need to Be Aligned
The same is true for leveraging social media. Branding and content both play into social media, as well, since social media allows you to better leverage your content, and also contains the visual cues associated with your business, such as your logo and brand colors. You not only want to create content on these channels, but you also want to do so with your ideal customer in mind. As you can see, without the alignment of branding and content, your social media won't be as focused as it could be. Simply posting on social media won't be enough, you need to do so deliberately, with the right kind of content for your audience.
Aligning Branding with Content Will Help You Stand Out
When you align your content with your brand, it allows you to stand apart from the competition. It gives your content a unique voice, and your audience will be naturally attracted to this voice. If you write your content with your ideal customer in mind, and also do so with your brand's visual elements, this will help you stand part from the competition. If you fail to align the two, you won't create anything unique that will help you stand out from your audience. branding gives your content the personality it needs to stand out from the crowd, and when you do that, your audience will choose you over your competitors.
As you can see, content and branding need to be aligned, and by default, so does social media. In fact, every piece of your business's digital marketing should be connected in some way to your branding. If it isn't, you will have trouble reaching the right audience. However, align your content and your brand with each other, and you will attract your ideal audience.
Categorized in: Content Marketing
LIKE AND SHARE THIS ARTICLE:
READ OTHER DIGITAL MARKETING RELATED ARTICLES FROM THE BRICK MARKETING BLOG: