Where to Look for Content Inspiration
Written by Nick Stamoulis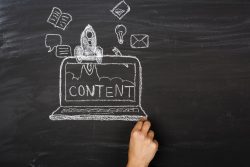 A necessary component of online marketing today is content. Marketers must be writing and publishing content on an ongoing basis. This content improves SEO efforts because it helps to generate natural links back to a website. Content also improves brand visibility across the web. Unfortunately, content marketing doesn't always come easy. Many business and website owners just aren't sure what to write about. Oftentimes they just need to get out of their own heads and not overthink the content process. Any information that your target audience would find useful or interesting works!
Here are 5 places where writers can find topic inspiration:
Customer service
For a larger company, the customer service team is a great resource when it comes to content marketing. They are the ones that deal with customer inquiries and concerns on a daily basis. For smaller companies or service-based companies, maybe it's the account managers that are dealing with the issues. Listen in on some of their calls or get transcripts of their online chat sessions. It's likely there are plenty of topics hidden in there.
Sales
The sales team is responsible for generating business. Prospects are going to ask them many questions before they buy the product or service to make sure it's the right fit. What are the questions that they find themselves answering again and again? If you turn these questions and answers into content on your website, it could save the sales team a lot of time!
Team meetings
Unless it's confidential information, there are usually plenty of things that come up in company meetings that can be turned into content. Maybe there are changes happening in the industry that you need to discuss with employees because it could change how they execute their job. This is information that your target audience should also know about.
Social media
It's worthwhile to spend a portion of every day browsing your social media accounts to see what others in the industry are talking about. You don't want to miss the boat if there's a timely topic that you should address! In addition to industry accounts, pay attention to what your current and potential customers are talking about too. It's also worthwhile to utilize your social connections and ask them what kind of information they are looking for. Many target audience members are more than happy to share their insights when you ask.
Existing content
If you've been publishing content for some time, take a look back at your analytics data to see which content has been performing the best. Maybe you'll notice that a few posts perform much better than the rest. Clearly those topics are the most interesting to your target audience. You can utilize that content by approaching it from a different angle or re-writing it by adding in some new information.
Categorized in: Content Marketing
LIKE AND SHARE THIS ARTICLE:
READ OTHER DIGITAL MARKETING RELATED ARTICLES FROM THE BRICK MARKETING BLOG: