Content Can Help Increase Brand Awareness
Written by Nick Stamoulis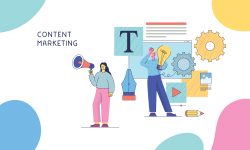 There are many benefits to regularly posting new content to your business website. Besides helping with your SEO program, making your audience happy, and giving you original items to share on social media, content can also help increase brand awareness. It is true that when people are repeatedly exposed to a brand, it can eventually help turn them into customers.
By finding multiple channels to share your content, you have the opportunity to not only reach more people, but to give people more than one chance to encounter your brand. Overall, this helps increase brand awareness. Here's more information:
Content Gives You the Ability to Target Specific Demographics
Content can really help you reach your ideal audience, which means that it will bring brand awareness to the eyes of all the right people. If you discover a new product holds particular appeal for customers falling within particular segments of the population, you can employ extensive data mining resources to send content to interested prospective customers with precision.
The goal is for companies to map out what the ideal customer looks like and create content specifically for the audience. You might have more than one type of customer, and this means that you can create content for both. For example, if you manufacture products for a certain industry, you will want to create content that will attract the right members of that audience. They will become aware of your brand and then consider using your products.
Using Content for Brand Awareness Casts a Wider Net
When it comes to finding people to view your content, you have the ability to cast a wide net, which will allow more people to view it. For example, once you write an article and post it on your website or blog, there are now multiple ways your audience will find it. This means that once you write an article, your job isn't done. You will want to promote it in social media and share it with your audience.
Search Engines. Once the article goes live and the search engines crawl the site, you can now reach people through the search engines.
Direct Traffic. It is also possible to get eyes on your article through direct traffic, such as if someone bookmarks your website and returns frequently to see if there is anything new. From there, they could also reach your content by spending more time on the site linking from one article to another.
Social Media. Sharing each new piece of content on social media can also help expand its reach. You should also use multiple social media platforms, as long as you are sure to reach your target audience on these platforms.
Email Newsletter. If your company has a newsletter, you will want to share any new content that you have published in the newsletter.
As you can see, posting original content on your website has a lot of benefits for your business, including increasing brand awareness. It will help you reach more people who could eventually become paying customers!
Categorized in: Content Marketing
LIKE AND SHARE THIS ARTICLE:
READ OTHER DIGITAL MARKETING RELATED ARTICLES FROM THE BRICK MARKETING BLOG: