You Need a Content Calendar
Written by Nick Stamoulis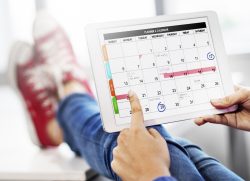 On the surface, it may seem that all you need to do for your content is to make sure that you publish it on a regular basis. However, there really should be more to it than that. A great content strategy is calculated, and you should also have a content calendar to go along with it. Creating your strategy and calendar should go hand in hand. Here's more information about this:
Know Your Goals
You can't really develop a content calendar until you really know what your goals are. What are you hoping to achieve with your content marketing? Do you want to increase website traffic, generate leads, or boost brand awareness? Once you know what your goals are, you can create content that aligns with them. From there, you can figure out the optimum schedule for this content.
Determine Your Audience
Who are you trying to reach with your content? Knowing your target audience will help you determine the type of content you should create and the tone you should use. The better you know your audience, the better you will know what their desires, needs, and wants are. How can you fulfill these desires? Your content will attract your ideal audience and allow you to connect with them in a meaningful way through what you put out there. You need to get to know them first.
Collect Ideas
Come up with a list of topics that you would want to write about. You can brainstorm ideas by looking at your company's blog, surveying customers, or simply thinking about what you're interested in. Once you have a list of topics, you can organize them into themes. Most writers have a large list of ideas, so that when it comes time to create the strategy, calendar, and content itself, there won't be any surprises.
Create Your Plan and Schedule
Now that you have a general idea of what you want to publish, it's time to create your content strategy and then translate that strategy into a workable calendar. The strategy will outline the specific pieces of content you plan to publish, and at this stage, it will have more to do with the overall strategy based on your audience and goals. After that, you will be able to develop a workable calendar.  This will help you stay on track and ensure that your content is regularly published.
Remember that you will need to be as organized as possible to properly create your calendar. You will need advanced knowledge of the titles you will published and how they relate to your business strategy. You will also have to keep in mind seasonality. The calendar is your roadmap, but it does take some prep work to get there.
Creating a content calendar is key to any successful content marketing strategy. Having all your information in one place helps track what you're publishing, when you're publishing it, and how well it's performing. If you're looking to improve your content marketing, start by creating a content calendar.
Categorized in: Content Marketing
LIKE AND SHARE THIS ARTICLE:
READ OTHER DIGITAL MARKETING RELATED ARTICLES FROM THE BRICK MARKETING BLOG: