CEOs Need to Buy Into B2B SEO Programs
Written by Nick Stamoulis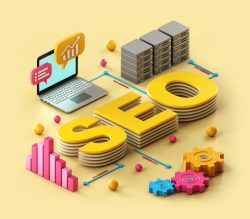 As a marketing professional, you know that it is important that the CEO of the company is on board with everything that you do. Even though your CEO may not be concerned with the details, it is his responsibility to make sure that every decision that is made supports your long-term growth. This is true for everything, especially your B2B SEO program. While it isn't necessary for him to understand the SEO program in great detail, it is important that your CEO understands enough so that they will support the long-term SEO strategy.
SEO is a Long Term Strategy
One important point to make is that SEO is a vital strategy that will see excellent results over time. However, you need to give the program enough time to work. For instance, if it takes about a year for a potential client to go through the sales cycle, you will need to give your SEO program enough time (with consistent action) to show how effective the results are for your company. You need to give it a chance to build momentum, traffic, and leads. If you don't work the program for long enough, there's no real way to measure how well it's working.
The problem with this is that the marketing department is largely concerned with generating leads and converting these into paying customers. As a result of this, it is all too easy to focus on quick strategies that will get these leads coming in as fast as possible. While this strategy does work well on a short-term basis, it does very little to foster long-term growth. Your B2B SEO program, on the other hand, does encourage long-term growth. In an ideal world, your department will focus on both short term and long term strategies.
It's Important to Set Realistic Expectations
You already know that investing the time and effort on an effective B2B SEO program is worthwhile. However, without the buy in from your CEO, it will be nearly impossible to see it through long enough to benefit. When pitching the benefits of SEO to your CEO, it is important to set realistic expectations and highlight the fact that while it isn't a good short-term strategy, the long-term results will likely exceed any of your short-term marketing efforts.
How do you prove to management that this is a worthwhile investment? You simply need to appeal to their sensibilities. If they don't already understand the fundamentals of SEO, you can start by explaining to them how it works and what the benefits are to the company. Otherwise, without their support, they may not give the program enough time to work.
B2B SEO success has to start with the support of upper management. Even if the marketing department as a whole understands how important it is to invest in SEO, if the CEO doesn't understand both the theory behind it and the benefits, chances are pretty good that your company won't give it enough of a chance. SEO takes time in order to build momentum but once it does, your company will grow.
Categorized in: SEO
LIKE AND SHARE THIS ARTICLE:
READ OTHER DIGITAL MARKETING RELATED ARTICLES FROM THE BRICK MARKETING BLOG: