Building Links Should Be Natural
Written by Nick Stamoulis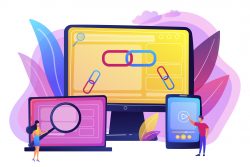 It is true that building a high quality link portfolio is an important part of your SEO program. There was a time when SEO experts would talk about link building all the time, and the tactics that were used back then were very effective. The algorithms were written differently back then, and methods such as article marketing, which were very common, no longer work for backlinks. As the search engine algorithms have gotten more sophisticated, it has made practices like this obsolete.
The problem is, a high quality link portfolio still makes a difference in your SEO. However, "high quality" is the important phrase to think about. The best links are abstained naturally, and this takes time.
The Best Backlinks Are Naturally Obtained
The best backlinks you could have in your portfolio are ones that were obtained naturally. In fact, this is the "white hat" approach to getting links. Anything beyond that is actually a violation of Google's policies. They are referred to as "link schemes." Here's some information, directly from Google's Webmaster Guidelines.
Link schemes are defined as:
Any links intended to manipulate PageRank or a site's ranking in Google search results may be considered part of a link scheme and a violation of Google's Webmaster Guidelines. This includes any behavior that manipulates links to your site or outgoing links from your site.
Execute Your Digital Marketing Program
The best thing you could do for your link portfolio is develop and execute a high quality digital marketing plan that is designed to connect your business effectively with your target market. By doing your regular activities, you will attract people to your business who want to engage with you. A natural byproduct of this is that people will share your content with others and might eventually link to you. Here's a look at how this would work:
Posting new content. Great content is shareable. When you post this content on a regular basis, this will give you opportunities to connect with your target audience. If your audience likes what they read, they might share it with others. This is how natural linking works.
Social media. People share content with others on social media all the time. If a member of your target audience sees your content and likes it, they will re-share to their followers. Over time, a follower might take the extra step to physically share the link to your content in another place online, such as on their blog.
Organic search results. Elements of your digital marketing program will also give you more exposure in the search engines. The more people who see your content, the more likely you are to get quality backlinks.
When it comes to creating a link portfolio, it is a good idea to make sure that the links are naturally obtained. These are not only the most effective, but they are also within Google's guidelines. Links obtained any other way will do more harm than good and you could be penalized.
Categorized in: SEO
LIKE AND SHARE THIS ARTICLE:
READ OTHER DIGITAL MARKETING RELATED ARTICLES FROM THE BRICK MARKETING BLOG: