Boost Engagement on Social Media
Written by Nick Stamoulis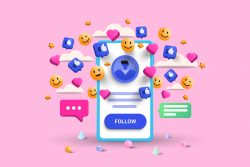 Social media has evolved to be an integral part of digital marketing and has many benefits for your business, such as helping to build your brand, generate leads, and improve engagement with your content. However, in order for social media to work for your business, you need for your social media posts to have enough engagement. Here are some things you can do to help boost that engagement:
Post Regularly on Social Media
It is essential to be consistent to boost social media engagement. Posting once a week will not yield results. Identify the social media platforms where your target audience is active and develop a content calendar. Posting regularly is the only way to interest your followers and attract new ones. Make sure that you find the right amount of posting that your audience will enjoy. Post too often and it will turn people off. If you don't post enough, this can actually cause engagement to drop off.
Are you having trouble remaining consistent? Consider using social media scheduling tools to improve consistency. Make sure that your posts create value for your audience, and if they do, you will be rewarded with increased engagement. However, it might take some experimentation to find the right frequency.
Encourage Social Media Users to Interact
When creating a social media post, always include a call to action. You can ask your followers or customers to comment, share, and like the post. If you ask them, they are more likely to follow through. However, you don't want to overdo asking them, otherwise this will turn them off and it will have the opposite effect. If you ask for their participation tastefully, they will reward you by following through.
However, keep in mind that the best engagement is obtained organically. If you need to constantly ask people to interact, this may lessen its impact. You want to strike a balance between asking for participation and encouraging organic growth.
Create a Good Mix of Content for Social Media
When you post on social media, you need to make sure that your audience likes what you are sharing. The best way to find out what they like is to make sure you are offering your audience a mix of post types. For examples, you should be sharing all the content you are posting on your website or blog. This is a great strategy if you regularly post new pieces, and you can also share older pieces on a regular schedule. There are other post types you can do, as well, such as sharing quotes or other pieces of information your audience will like. You also can consider boosting some of these posts through social advertising.
Social media is also a great wya to keep your followers updated on what you are up to and address their concerns if and when they raise them. When used correctly, social media can significantly boost your brand and increase your customer base in the long run. You just need to figure out what works best.
Categorized in: Social Media
LIKE AND SHARE THIS ARTICLE:
READ OTHER DIGITAL MARKETING RELATED ARTICLES FROM THE BRICK MARKETING BLOG: