Blog for Better Customers and Clients
Written by Nick Stamoulis
There are so many benefits to business blogging. It's a way to share your industry knowledge and be viewed as an authority figure. It's a way to earn trust, inbound links, and grow your brand online. Tied together, this results in generating better customers or clients for your company, customers or clients that "get it".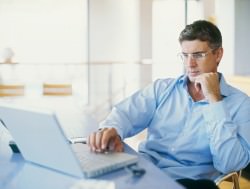 Consumers conduct their research online before making a purchase. They want to know what the product, service, and company selling that product or service is all about. A prospect that follows your blog will see your thoughts, beliefs, and practices. Over time, they'll come to understand how you do business. If they like what they see, they'll be more likely to work with you. Or maybe, by sharing your insights and helping a prospect better understand the industry, you've been able to sway that prospect that was on the fence. If the prospect doesn't agree with your process or stance, they'll look elsewhere. Keep in mind that this isn't a bad thing. You wouldn't have wanted to work with them anyway and essentially you just saved your salespeople a lot of time that they would have invested speaking with someone that ultimately wouldn't have made a purchase. By educating prospects via your blog, you're working towards generating better-qualified leads and sales.
Better-qualified leads and sales typically result in better clients and customers. They know what to expect up front and don't have unrealistic expectations from a service or product. Once they've signed the contract or made the purchase, you can't forget about them. Once the good prospect becomes a good client, it's your job to continue to keep them informed.
Once the sale happens, customers don't stop reading the blog. In fact, they'll probably read it more. They are now officially connected to your business and have become more invested in what you say and do. You need to keep this in mind as you develop and execute your business blog strategy.
If important things are going on in your industry and it affects your clients or customers, be sure to reach out to them directly before publishing a blog post. Remember, they're reading your blog and will wonder why they had to see the information there and why it wasn't shared with them directly. You also need to make sure that what you publish on the blog is directly in line with what you're telling clients. They aren't dumb. You can't say one thing on the blog to reel them in and then say another thing once they are a client or customer. That's just not going to work.
Be sure to continue to write blog posts that would be interesting to existing customers and clients, not just posts for "newbies". For example, a post on what to expect after 2 years of investing in XYZ service that you offer.
A business blog is a great sales tool, but it's also a tool that can be used to continue to educate current customers and clients. Don't leave them out of the strategy.
Categorized in: Content Marketing
LIKE AND SHARE THIS ARTICLE:
READ OTHER DIGITAL MARKETING RELATED ARTICLES FROM THE BRICK MARKETING BLOG: