Basic SEO Items to Execute Right Now
Written by Nick Stamoulis
Not all business website owners are SEO experts, however that doesn't mean that business website owners get off the hook completely when it comes to SEO. The purpose of having a business website is for target audience members to learn more about what you do/sell and hopefully to encourage them to buy. Obviously, the more people that visit the site, the more people there are that might buy. And organic traffic from the search engines is a top source of traffic for most websites. This means that at the very least, business website owners should be executing basic SEO. Here are some of the top SEO items to execute:
Add keyword meta information
There are far too many business websites out there that either have no meta information or basic, not optimized meta information associated with their sites. This is because web designers/developers aren't always SEO people and it might not be a part of their responsibilities to be adding these things. So websites are left with "Company X" as the title tag across all of their pages or marginally better, but still not good – plain old "Services" for the services page or "Products" for the products page. These titles aren't telling the search spiders anything. Same goes for the meta description. If you sell "Extra Special Blue Widgets" that's what the title tag should be for the "Extra Special Blue Widgets" page.
Set up a blog
You might have to hire a web developer to add a blog to your website. Opt for a user-friendly blog like WordPress that's easy to update. While it's advisable to blog at least weekly, even monthly is better than nothing. It adds pages to your website that keep the site "fresh" in the eyes of the search engines, every blog post will naturally include keywords about your industry/business, and it gives you something to share with your followers in social media.
Share in social media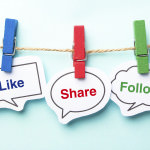 Speaking of, share in social media! There isn't a direct correlation between social media and organic search rank but it helps indirectly. It helps to build your brand and a stronger brand's website typically receives more inbound links, which absolutely does impact SEO.
Claim Google My Business
Claiming local business profiles isn't only for local businesses. It only takes a few minutes to fill out the information and verify a listing with Google and it can make a huge difference in Google search visibility and traffic since it's giving Google even more information to work with in order to determine rank.
Activate Google Analytics and Search Console
You track success of other marketing and advertising efforts, why wouldn't you also track how your website is performing? These are free tools from Google that provide a wealth of insights from organic traffic information and trends to any technical problems with the website that should be addressed.
At a basic level, all website owners should be able to execute these items. Of course, in order to bring it to the next level, it's advisable to hire an SEO professional.
Categorized in: SEO
LIKE AND SHARE THIS ARTICLE:
READ OTHER DIGITAL MARKETING RELATED ARTICLES FROM THE BRICK MARKETING BLOG: