White Hat vs Black Hat SEO
Written by Nick Stamoulis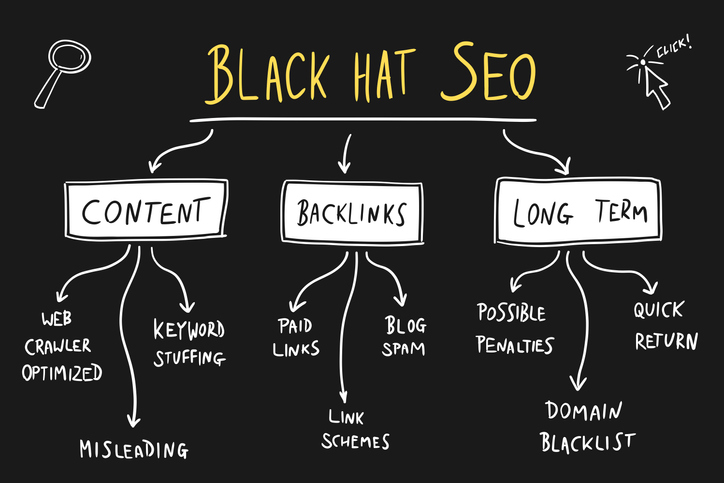 There is no such thing as a "golden method" in SEO. In reality, everyone does things a little bit differently based on what performs best for their site and business. That said, there is a narrow line between experimenting with strategies that perform for your site and exploiting search engine algorithms to boost your ranks. The distinction between bad and good search engine optimization is referred to as black hat and white Hat SEO.
Recognizing the Difference
Understanding the distinction between black hat and white hat SEO is critical. Even if done unknowingly, black hat SEO could result in a Google or Bing penalty, which can drastically harm your SERP rating in the long term – or worse, have your site removed from search engines entirely. Here's all you should know about white hat vs. black hat SEO.
Black Hat SEO
Black hat SEO is the use of hacks and shortcuts to trick search engines and exploit any flaws in their algorithms. This bad SEO tactic is typically designed with search bots in mind instead of human readers. This method is laden with the danger of getting penalized by Google. Here are some black hat SEO strategies to shun if you want to acquire Google traffic.
Keyword Stuffing
This is how Black hat SEOs try to exploit their website's rankings by spamming their primary target keywords out of context and unnaturally. Google is all about relevancy, so utilizing irrelevant keywords—or too much of them—will likely result in your content being downgraded.
Hidden Text
This is lettering that has been colored to resemble the color scheme of a site so that the visitor cannot see it. Black hat SEO tactics also employ hidden text in order to smuggle extra content or relevant keywords into a webpage in order to appeal to Google. The text is sometimes written in a zero-font size. This is a misleading method; powerful Google crawlers will most likely detect it and reduce your score.
Link Schemes
Link schemes, often known as manipulative links, are a popular Black hat SEO tactic. Mutual back linking happens when Black hat SEO users conceal links in different places of their website, comments section, and even physically disguised links. Because adding backlinks to your content improves your results, Black hat SEO users stuff them into their websites, even if they offer no value to the content, to rank higher. Again, search engines are likely to shut down this nefarious technique rapidly.
White Hat SEO
This is the complete reverse of Black Hat SEO. White Hat SEO refers to practices that increase your search ranks on search engine pages while protecting the integrity of your site and adhering to the guidelines of the search engines. White Hat SEO follows the laws and, in the long run, benefits your site and business as a whole. You will notice the best benefits over time if you move your attention away from attaining high rankings immediately and toward developing connections with your audience. Here are some elements of White Hat SEO that indicate that you are adhering to the best practices.
Prioritizes a Human Audience
You are doing the right thing if your content is tailored toward your consumers' wants instead of the search engine's. Google crawlers have evolved well beyond previous strategies that succeeded and are now much more focused on viewer satisfaction. Although certain algorithm-focused techniques may initially get consumers to your website, your bounce percentage is likely to increase if their demands are not addressed due to a lack of valuable content. In the long term, this damages your SERP rankings; therefore, your best strategy is to focus on addressing your users' demands instead.
Quality is More Important than Quantity
Improving the value of your material will also aid you tremendously in terms of SEO. Keeping your material up to date with dates, reliable sources, and fresh content will make your readers interested and return for more. Successful white hat SEO is viewed as a process rather than a checklist that can be checked off and then forgotten about. It's a good idea to shift your attention away from spamming your sites with unrelated links, keywords, and images solely to appeal to search engines and instead keep your users engaged with pertinent quality content.
Long-Term Strategy
Strategies that adhere to Google's regulations and provide a great user experience are sometimes more time- and labor-intensive than black hat SEO tactics. This implies that seeing the desired outcomes will take time. On the other hand, white hat SEO has a far longer-lasting influence. This is because by using tactics to improve your whole site experience, you may get consistent results for your selected keywords.
The key distinction between white hat SEO vs. black hat SEO, as you've seen, is that white hat SEO adheres to Google's standards, whereas black hat SEO violates them. While both these SEO tactics may improve your search engine results, white hat SEO is the only practice completely free of penalties.
As a result, if you want to maintain your traffic and visibility over time, opting for white hat approaches over black hat practices is the greatest option for your search engine optimization strategy.
Categorized in: SEO
LIKE AND SHARE THIS ARTICLE:
READ OTHER DIGITAL MARKETING RELATED ARTICLES FROM THE BRICK MARKETING BLOG: