Do Web Developers Need to Know SEO?
Written by Nick Stamoulis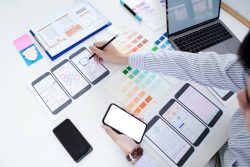 When it comes to creating a website, there is a lot that goes into it. From planning the website's content, designing the page layout, and making sure it runs properly, the developer is in charge of making sure the end result is one that will best represent the company. What does this mean exactly? Well, they are not only in charge of the website's front end appearance, but the back end, as well.
In the end, it doesn't matter if they have a working knowledge of SEO, but it will certainly help the big picture if they have at least a basic understand of it. Not only that, but there are some technical considerations that a web developer can aid with that absolutely do impact SEO.
Site Speed Matters for SEO
Back in 2018, Google announced that page speed was a ranking factor. Google encouraged developers to make sure that each website ran as quickly as possible. If two pages have similar content, and one is faster than the other, Google would likely favor the fastest one in the search engine rankings. Site speed is something that developers can have control over. The goal should be to make sure the websites they create are as fast as possible.
This is not only important for the search engines, but for users, as well. Think about your own browsing habits. If you encounter a website that is pretty slow, you will likely click away in search of a site that loads faster. Google knows this is important to users, which is why they made site speed important for ranking. As a rule, we always check site speed during our marketing audits. If the page loads too slowly, we recommend the client find ways to speed the site up.
Websites Should Be "Crawlable"
Another item that web developers could control is the fact that a website needs to be "crawlable". This is something that the web developer has control over because if the website isn't really crawlable, he or she can fix it. If the website needs work in this area, the web developer can fix it. All of these items help insure that Google will find all of a page's content. This is what makes a website "crawlable." Here are some things to keep in mind:
Sitemap. Each website needs a sitemap submitted to Google. The developer can assist in creating one if there isn't one. The sitemap helps let Google know which pages can be crawled. The sitemap should be added to Google Search Console.
Mobile. Another important technical item is making sure that the website is mobile friendly. A large number of searches are done on mobile devices and if the site isn't mobile friendly using a responsive theme, this can hurt rankings. Developing the right design that is also mobile friendly is something that the web developer is absolutely in control of.
Internal linking. A website's rankings could benefit considerably from internal linking, and this is something the web developer can also build into the design of the website.
URLs. Another item the web developer can control are the URLs of a website. This could absolutely impact SEO. URL's should be on the shorter side and to the point. If a URL needs to be deleted, the developers should create a redirect to another domain. It is also a good idea to program in a global 301 redirect as a catchall.
As you can see, it is incredibly helpful if a web developer has a functional knowledge of the technical side of SEO. This will help the site perform better in the search engines over the long term.
Categorized in: Digital Marketing, SEO
LIKE AND SHARE THIS ARTICLE:
READ OTHER DIGITAL MARKETING RELATED ARTICLES FROM THE BRICK MARKETING BLOG: