Art of Using Keywords in Your Content Marketing
Written by Nick Stamoulis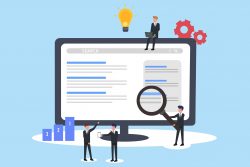 It's true that when it comes to digital marketing, you need to find ways to connect your business with your audience so that you can find new business. Your content marketing offers a great way to do this, and it's even better if he content is optimized. However, poorly optimized content can do more harm than good, and there is a real art to effectively using keywords. Here is some advice that will help you find the best approach to using keywords in your content:
Choose the Right Keywords
Different types of keywords will drive different types of traffic. If you write about a niche with a lot of competition, you will want to use more competitive keywords in your content. The primary purpose behind using keywords in your blog is to make it easier for people to find your content and get to know who you are.
If they find your website through search engines and don't know who you are, they could forget abut it after the first website. Research what keywords people are using in your industry. Not only that, but you should make sure the keywords you find are appropriate for the content you are writing. They need to relate to the topic because this is the best way to connect the keyword to your audience.
Learn to Think Like Your Audience
If someone is searching for information about your particular niche, provide them with the answers they are looking for. Customers don't want to read long articles or pages of content that don't provide them with any helpful information. The internet is filled with information. Give them what they want rather than what you think they will enjoy better. What kind of information are they looking for? Find ways to connect your content to their expectations. Consider that you really should have content for every stage in the buying process, but you need to understand what your audience needs at every phase.
Use Keywords In Your Content Properly
Don't overuse keywords in your blog post or page content. If you do, people will lose interest and won't bother to read your blog anymore. You want to make it easy for people to find what they are looking for, but if you use too many keywords in a single blog post, it might confuse them. The best way to avoid this problem is by using different keywords in different places within the same piece of content or by using other pieces of content altogether. You can also use different phrases and synonyms to give it more meaning and make it easier for visitors to understand what you mean.
It's true that many businesses don't use keywords effectively because they either don't know how or don't see the value in doing so. If you need any help or advice, find a marketing agency in your area. Remember not to think too hard about it. It is much better to write naturally and not even include a lot of keywords. It's all about usability and keeping your audience happy.
Categorized in: Content Marketing
LIKE AND SHARE THIS ARTICLE:
READ OTHER DIGITAL MARKETING RELATED ARTICLES FROM THE BRICK MARKETING BLOG: